---
UPDATE: Former colleague isn't having any of it, refuses to apologize, (correctly) insists he has nothing to apologize for.
Petelius apologized for the Sámi sketches – this is how Aake Kalliala comments: "I have no reason to apologize"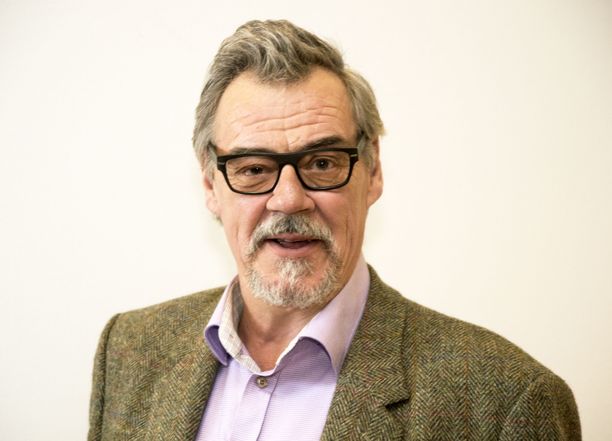 Pirkka-Pekka Petelius's apologies for decades-old sketches astonishes Aake Kalliala.
Actor Aake Kalliala tells Iltalehti that he does not intend to apologize for the sketches .

– At least I have no reason to apologize . They are the things done then, period.

– Now I wouldn't do them anymore, but it was that time and that's it.
---
Yeah, the 'woke culture' movement has hit Finland as well…
It would be one thing if the comedian(s) singled out Laplanders to the exclusion of everyone else, but they made fun of Finns themselves 95% of the time. Using his illogic as a measurement stick, what's left out from his apology are the Finnish people as well. So then we're left with: "why do we have comedy shows in the first place"?
Here's a snippet of one of their skits (oh and their face is black, not from pigmentation purposes, but from campfires):
Society needs to laugh at one's own self, and if it's not done in a mean spirited way, it should be celebrated. The Left is taking us down a dangerous path to where no one can be criticized, joked about or addressed in normal ways as in times past. Everyone is a victim (except for those in the majority) and have a self-importance the size of Kilimanjaro.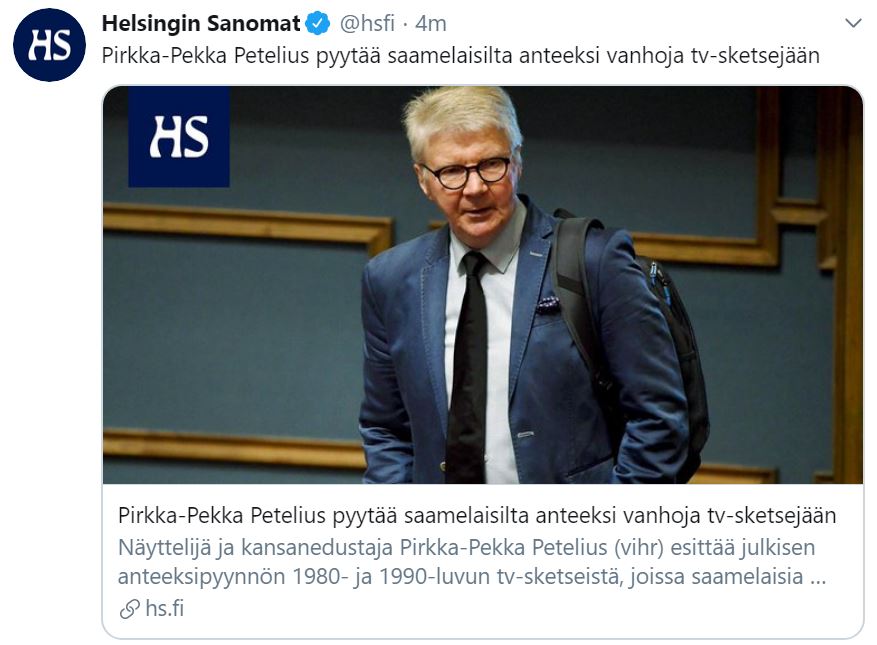 Pirkka-Pekka Petelius apologizes to the Sami for his old TV sketches
Actor and MP, Pirkka-Pekka Petelius (Greens) is making a public apology for 1980s and 1990s television sketches that portray the Sami in a discriminatory and distorting way.
Pirkka-Pekka Petelius, Member of the GREENS, apologizes for old TV shows that made fun of the Sami.
"I want to apologize publicly to all Sami people. I apologize for the detrimental effect that sketches have had. I understand my responsibility as a Member of Parliament and as a cultural figure, "Petelius says in a news release published on Thursday. He is better known as an actor who, in addition to theater and film, has acted in television sketch series that became popular in the 1980s and 1990s. The sketch series Smiley Lips , seen on domestic television in the 1980s, introduced Petelius and Aake Kalliala to the Finns
characters who were caricatures of the Sami minority in Finland.
Later, the same characters were seen in the popular Pulttibois series, for example.
PETELIUS has previously stated that the Sámi characters he presents are products of his time and do not belong to the modern world. In his view, criticism of the sketches is appropriate.
Petelius regrets that questionable sketches are still visible to the public. He hopes that they will not be consciously presented and used by contemporary artists. In the future, Petelius wants to focus on promoting the rights of the Sami. "I want to be instrumental in helping the Sami work with the community. Let this be the first step, "says Petelius.