---
Now is the time to block all Iranian oil tankers from entering foreign ports for refinement of their oil into petrol for their domestic market. The lion share of their gasoline is refined abroad. A major pressure point…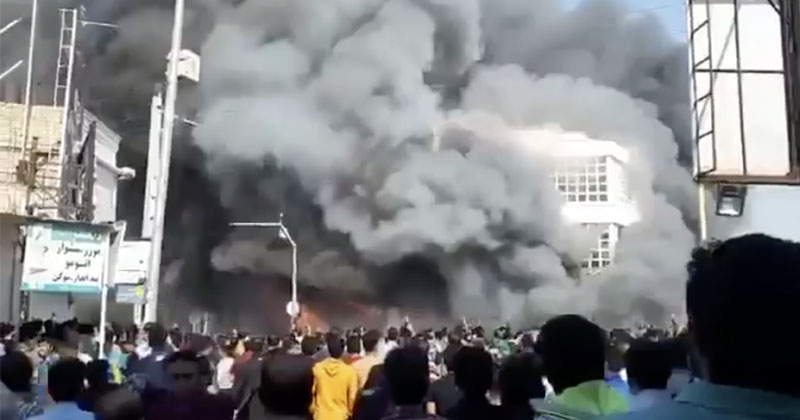 From Liberty Unyielding: 
Protests erupt across Iran after gasoline price hike; 1 dead
[Ed. – Social media have been in a frenzy for hours about this.  It's not small, and it doesn't look transient.  They're burning banks and public symbols of the regime, and posting photos of a Soleimani poster with a foot-stomping on him.  The latter is hard-core; there's hardly any bit of iconography more strongly pushed and prevalent than the supposed public worship of Qods Force thug Qassem Soleimani.]
Protests erupted in cities across Iran, leaving at least one person dead, after the government unexpectedly hiked gasoline prices, the semi-official Iranian Student's News Agency reported.

The fatality occurred during clashes in Sirjan in the southern province of Kerman on Friday, ISNA reported, citing the city's acting governor, Mohammad Mahmoudabadi. Protests spread on Saturday to Tehran, where motorists blocked highways and intersections with their vehicles in a dense snowfall, according to the Fars news agency. …

Fars posted a video purporting to show onlookers cheering as a dump truck emptied a full load of bricks and dirt on to the Imam Ali highway in Tehran. Demonstrations have flared in Iran's second-largest city of Mashhad and in oil-rich Khuzestan province, home to a large ethnic Arab population, IRNA reported. Police also clashed with protesters in the northwestern city of Tabriz, according to the Khabar Online website.

Neighboring Iraq ordered two of its biggest border crossings closed to travelers — though not to goods — along its southern frontier with Iran.