---
Of course, YLE won't print the supposed "offending" text, so the public is supposed to just take their word for it…
Knowing Sebastian I can guarantee that he was writing about Islam from a political perspective. This is just one more political show-trial by an aggressive totalitarian mindset with antiquated/oppressive laws on the books to help them do it.
Here he is the last time around a couple of years ago: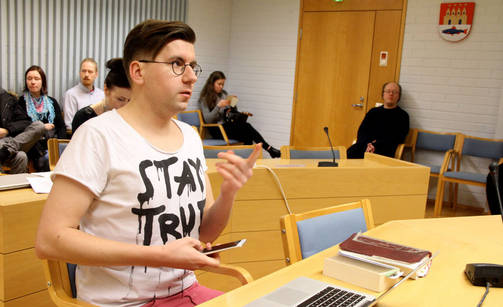 Trial of Sebastian Tynkkunen started in Oulu – prosecutor demands fine for incitement of an ethnic group
The indictment concerns a 2016 post written by Tynkkynen on Facebook.
Sebastian Tynkkynen, a Finnish MP, is today responding to a charge in the Oulu District Court against inciting a group of people. He denies having committed any crime and regards the trial as political.
The crime relates to his 2016 Facebook update on Islam and terrorism. Tynkkynen defends himself in court.
According to the Prosecutor General, Tynkkysen must have realized that the update he wrote was racist and slanderous in the face of Muslims. The prosecutor demands a fine of at least 60 days for Tynkkynen.
In his response to the district court, Tynkkynen compares the legal process to the previous trials of Teuvo Hakkarainen , a Finnish MP and current party chairman Jussi Halla-aho . Both were convicted of incitement against an ethnic group, Hakkarainen in 2017 and Halla-aho in 2012.
Thirty people, including Tynkkunen's supporters and the media, have come to see the parliamentary trial.
The crowd was so large that another hall was reserved for them for the duration of the trial.
Tynkkynen was previously convicted in 2017 of incitement against an ethnic group and violation of the religious peace in articles published on Facebook in 2016.
In addition to the trial now underway, Tynkkysen is suspected of instigating against and ethnic group in his Facebook post in the third story in 2017. This case has been transferred from the Oulu police to the prosecutor's office for prosecution . Whether the prosecutor will prosecute will be determined later.