---
Statist totalitarians don't believe that they need to show any evidence, "the guilty" are condemned for the mere fact of being outside of what they deem as "acceptable speech"…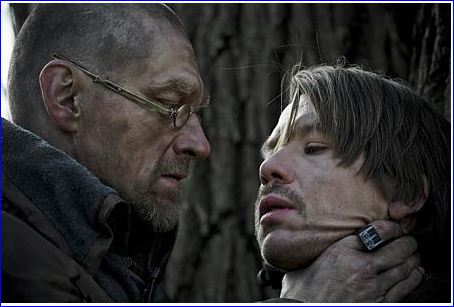 During the height of the Cold War with the Soviets, the US government, its people, were the standard-bearers of free speech for all dissidents and citizens of countries behind the Iron Curtain. Now, a company that got its start within the borders of the home of the 1st amendment is busy promoting anti-free speech under the guise of "inclusiveness".
Watch this video broadcast on Danish TV, where a journalist (who actually asks some tough questions) queries the svengali about the reasons for not only banning Tommy Robinson from Facebook, but also forbidding anyone to talk positively about him. This is chilling.
Thanks to Vlad Tepes for his translator (s) and subtitling and uploading this important video. Spread it far and wide as possible.
UPDATE:

Danish state TV's own FB post about the interview with Peter Münster was removed!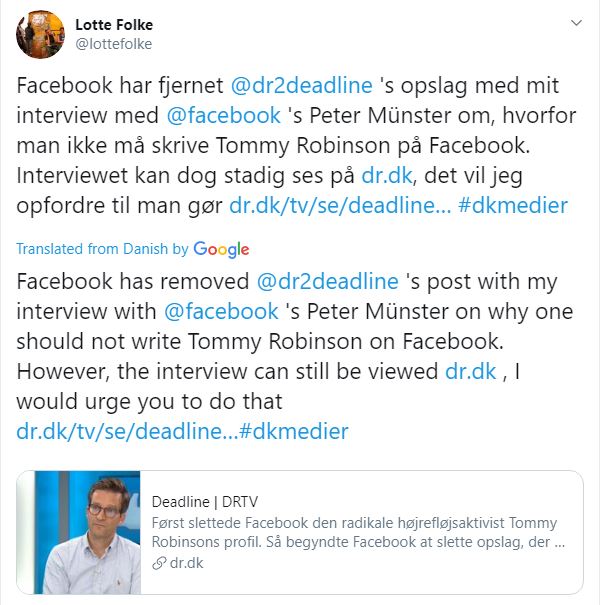 This is big. This is not any fly-by-night news org, it's the Danish state broadcaster's program. This is a journalist who actually asked some tough questions of this FB representative.
UPDATE II: I am told by the journalist herself that the post was reinstated but only after NR2 objected.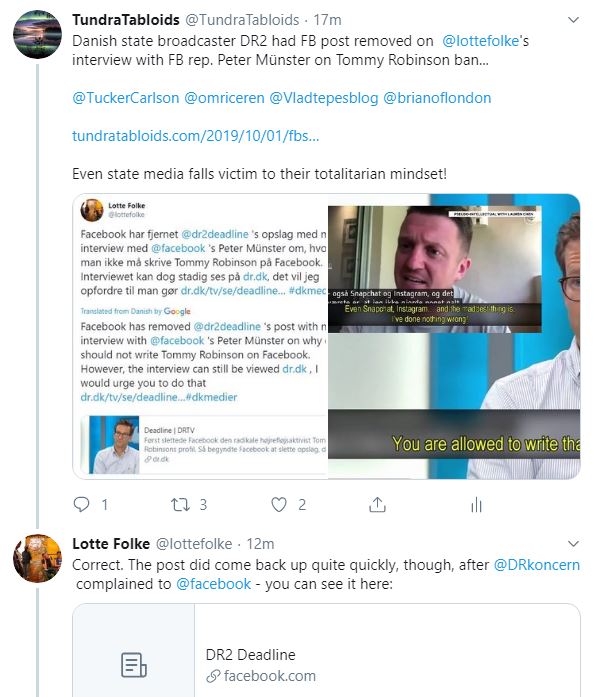 Brian of London: "Only a complaint from a big media outlet gets that kind of restoration… For the rest of us we scream into a hurricane."