---
They have an agenda to make Islam a regular feature in Finnish life…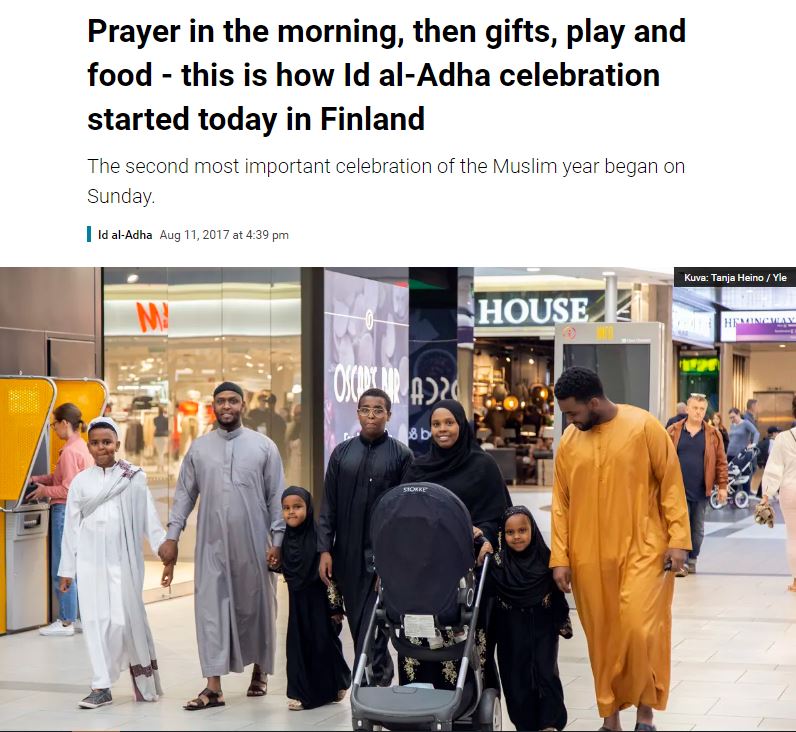 The Muslim Sunday's Id al-Adha celebration will also be celebrated in Finland.
– We have two big parties a year. The second is the end of fasting [Id al-Fitr], and then this is Id Al-Adha, says Arab Shuto of Helsinki.
Shuto compares the celebration to Christian Christmas: the children Amira and Aisha received gifts immediately in the morning, and usually the celebration is celebrated in the family circle with good food.
– The most important thing is that we are together. Let's be thankful for the past year and pray and thank God, Shuto says.
You have to make a mecca at least once
Id al-Adha celebration is the culmination of the annual Hajj pilgrimage of Muslims. This year, an estimated 2.5 million pilgrims made a pilgrimage to Mecca in Saudi Arabia.
The pilgrimage, lasting less than a week, began on Friday. In the process, the pilgrims roam the black stone of the Kaaba and rise to Mount Arafat to pray.
Every Muslim should make a pilgrimage to Mecca at least once in their life, if their health and opportunities allow.
– I haven't been to Mecca myself. I hope next year, says Amal Hussein from Helsinki, who was reached with her family from Itäkeskus on Sunday.
The Hussein family, for example, dress up in a festive atmosphere with cool clothing.
– Now we're off for breakfast and going to put on the party clothes. Then we go play with the kids, Hussein says.
The celebration lasts three days
At Al-Iman Mosque in Munkkiniemi, Helsinki, there were hundreds of prayers in the morning in two different shifts, says Imam Mohammed Sherif Issaka .
– We started the prayer time at the mosque at nine in the morning. After that we will enjoy refreshments. There were cookies and gifts for the children, Sherif Issaka says.
According to Sherif Issaka, Sunday morning prayer was gathered at about fifteen different locations around Helsinki.
Id al-Adha traditionally takes three days in Finland. Traditional party food is typically lamb, but at least the rice and African food is served at the Sheriff's table.