---
Spot on…
Portlantifa
by Mark Steyn
Tuesday Notebook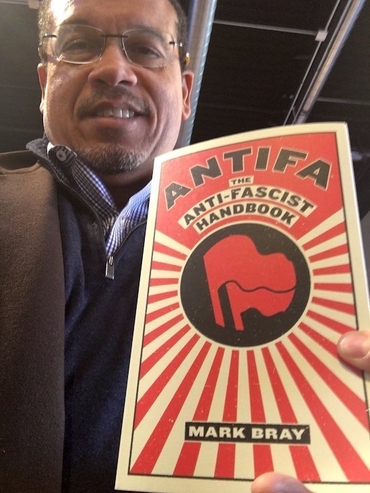 My 2014 book The [Un]documented Mark Steyn includes this prescient quotation from a decade earlier:
'The lofty idea of 'the war on racism' is gradually turning into a hideously false ideology,' the French philosopher Alain Finkielkraut said in 2005. 'And this anti-racism will be for the 21st century what Communism was for the 20th century: a source of violence.'
Indeed. One is also mindful of a famous aperçu by Ennio Flaiano, the Italian screenwriter who gave us La Dolce Vita and Nights of Cabiria:
In Italia i fascisti si dividono in due categorie : i fascisti e gli antifascisti.
"In Italy the fascists are divided into two categories: the fascists and the anti-fascists." In America the division is a little more lop-sided: There is no organized fascist movement except for the so-called anti-fascist movement: Antifa wear uniforms and masks on the streets of American cities and perpetrate violence with the support and connivance of powerful Democrat politicians and their hideously politicized police departments.
The consent of the latter is especially important: in the Democrats' northern fiefdoms the cops increasingly behave as they did in the party's old southern fiefdoms – they're there not to keep the peace but to ensure that their buddies in the Klan – whoops, sorry, I mean Klantifa – get to give the designated "troublemakers" a bloody good hiding. Thus in Portland, Oregon the police stood by and let Antifa beat the crap out of reporter Andy Ngo, steal thousands of dollars' worth of his equipment, and put him in hospital with a brain hemorrhage. But that's just policing as usual in a corrupt municipality increasingly without the law. As Democrat Mayor and Police Commissioner Ted Wheeler put it last year, after his officers again sat back and watched as Antifa blocked streets and threatened and intimidated drivers:
I was appalled by what I saw in the video, but I support the Portland Police Bureau's decision not to intervene.
They're getting so good at "not intervening" it might be easier for the city simply to lay them off and contract out all "law enforcement" to Antifa.
The other advantage Klantifa enjoy is the enthusiastic support of Blue-Check Twitter, who were out in force celebrating Mr Ngo's hospitalization. Charlotte Clymer, communications honcho for the LGBTQWERTY "Human Rights Campaign" gloated:
Being attacked today on video taken by an actual journalist (because Ngo is definitely not) is the greatest thing that could have happened to his career.

You know it. I know it. He knows it. We all know it.
Well, I don't know whether I do know it. Mr Ngo is a contributor to the American website of my old chums at The Spectator, which is the oldest continuously published English-language magazine on the planet – it will celebrate its two hundredth birthday in 2028. So it would seem to be at least as much of an actual journalistic venture as The Huffington Beast or whatever. The rationales for violence made by the likes of Ms Clymer are getting cruder by the day. Identity politics isn't even about identity: Andy Ngo is a gay Asian, but because he's a gay Asian who disagrees with the gay enforcers of the Human Rights Campaign he's a "white supremacist". There's nothing sophisticated about this: To Ms Clymer, it's us and them. And, if you're part of them, then you deserve that brain hemorrhage.