---
They look like Nicolae and Elena Ceausescu right before the firing squad let it rip.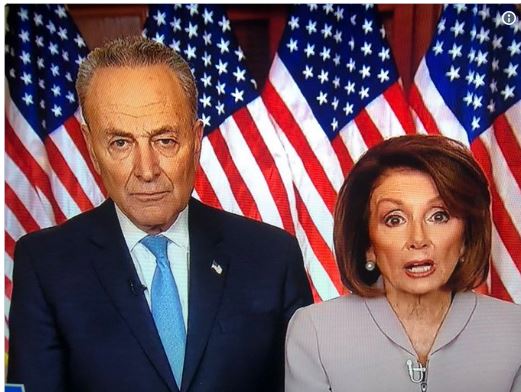 Liberty Unyielding has more.
TRUMP RALLIES NATION FOR BORDER WALL
The only option to halt the illegal alien invasion.
January 9, 2019
President Trump took rhetorical aim at his enemies as he delivered his first-ever prime time address from the Oval Office last night in a bold attempt to rally the country in favor of building a wall on the porous U.S.-Mexico border, his signature campaign promise.
In a live address Trump made a succinct case for a border wall on national security, economic, law and order, and humanitarian grounds.
The wall is needed "because there is a growing humanitarian and security crisis at our southern border," Trump said at the beginning of his oration.
"Every day, Customs and Border Patrol agents encounter thousands of illegal immigrants trying to enter our country. We are out of space to hold them, and we have no way to promptly return them back home to their country."
"In the last two years, ICE officers made 266,000 arrests of aliens with criminal records – including those charged or convicted of 100,000 assaults, 30,000 sex crimes and 4,000 violent killings," the president said.
"Over the years, thousands of Americans have been brutally killed by those who illegally entered our country, and thousands more lives will be lost if we don't act right now."