---
Like I've said all along, Putin is NOT an ally of the counter-jihad movement. Russia will only act against the jihad when it's in their best interests, not ours. Putin will use (even help) the jihadists to counter the West by keeping it off balance. He's not our friend, at all.
You have to be a really dumb person to not understand that the Hezbollah is an Islamonazi terrorist group, and that it shouldn't be allowed to operate in any Western country. Period.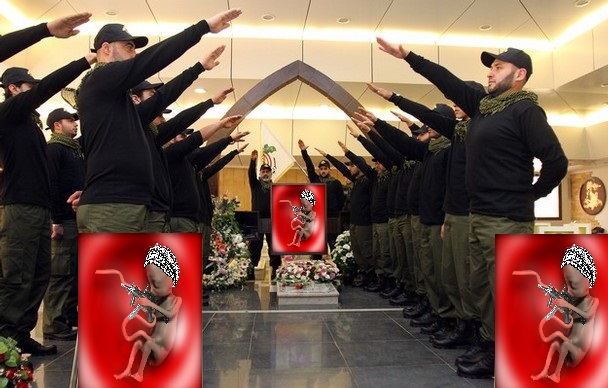 Unsurprisingly, Putin's @SputnikInt attacks my @Jerusalem_Post report and praises the terrorist entity Hezbollah.
Sputnik: Israeli Media Slams German Police for 'Rolling Out Red Carpet' to Hezbollah
Israel, its US and Canadian allies and the Saudi-led Arab League classify the Lebanese political and militant organization as a terrorist group. Germany, however, does not have its own list of terrorist originations, and refers to a common EU list instead. Brussels considers Hezbollah's military wing a terrorist group, but not its political wing.
The Jerusalem Post has blasted Munster, Germany police chief Hajo Kuhlisch over a meeting he held with a pro-Hezbollah group at a mosque in late November.

"It was a nice evening and productive exchange," Mahdi AG, a local Hezbollah-affiliated Islamic cultural center, wrote on its Facebook page. The post was accompanied by a photo of Hajo Kuhlisch posing for a group photo with several of the organization's members on November 25. According to the organization, the meeting discussed the group's work, "anti-Muslim racism," questions of faith, and other issues.
Benjamin Weinthal article being referred to by Sputnik:
GERMAN POLICE ROLLED OUT RED CARPET FOR HEZBOLLAH-AFFILIATED GROUP
 DECEMBER 8, 2018 17:26
The police president in Münster, Germany, appeared for a "nice evening" on November 25 at a pro-Hezbollah organization that proclaims its resistance against the Jewish state, ignoring his own state's intelligence reports about the radical Islamic Hezbollah entity.
According to a Facebook entry on the website of the Hezbollah-affiliated Mahdi AG organization, Münster's police president Hajo Kuhlisch met with members of the Imam-Mahdi mosque to discuss "anti-Muslim racism and Quran learning."
"It was a nice evening and productive exchange," wrote the organization that is filled with Hezbollah supporters, according to the state of North Rhine-Westphalia (NRW) intelligence reports, where Münster is located.
A photograph on the Facebook site of Mahdi AG, dated November 25, shows a smiling police president Kuhlisch standing next to members of Mahdi AG.
Last year, the chairman of the Hezbollah-affiliated Islamic center Al-Mahdi urged his supporters to wage "resistance" against Israel.