---
They should heavily arm themselves with 'never again' firmly seared into their collective identity…
Life Returning Slowly to Christian Homeland in Iraq
"Something specific occurred here that requires a specific response. It is called genocide… It is important for these communities to understand that they have a superpower behind them. This is a White House priority. Our goal is to help those communities return to their historic lands." — Max Primorac, Special Representative for Minority Assistance Programs at USAID, who is responsible for aiding Christians and Yazidis targeted by ISIS.
While roughly a third of the Christians who fled from ISIS in 2014 are returning, the future of their communities in northern Iraq needs political support and a surge of security and economic development. For Christians worldwide, this is our homeland. This is where we began. These are the people we need to protect and help to prosper.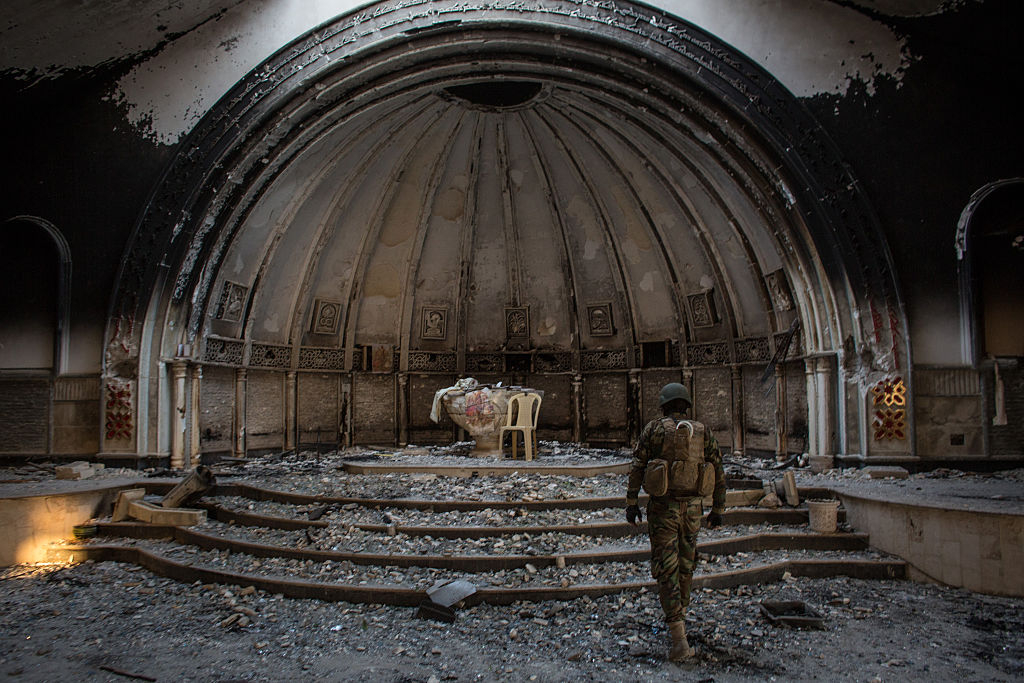 A fighter from the Nineveh Protection Units (NPU), a Christian militia, is pictured on November 8, 2016 in a church that was destroyed by the Islamic State in Qaraqosh, Iraq. (Photo by Chris McGrath/Getty Images)
QARAQOSH, Iraq — Christians are gradually returning to their historic homeland in northern Iraq, after three years of ISIS occupation.
The lucky ones managed to flee before the ISIS onslaught in the pre-dawn hours of August 6, 2014, and returned to find their houses intact. Most, however, are facing tremendous damage to their homes and families from a war that pitted neighbor against neighbor, community against community, tearing apart bonds forged over generations.
Yohanna Younis Towaya, 54, a prominent businessman and farmer, returned to find his home burned and looted. "One wall, next to my father's house, was completely blown out but we repaired it," he says. His father's house, next door, he says, has been flattened by an allied air strike: ISIS fighters turned it into a fighting post.
Towaya says he doubts he will ever rebuild his father's house, like the 116 such buildings in this once-thriving Christian economic center. "ISIS fighters are buried there beneath the rubble," he says. "Sometimes, you can smell them."