---
Without Tommy, none of these bastards (or similar crimes) would have been investigated…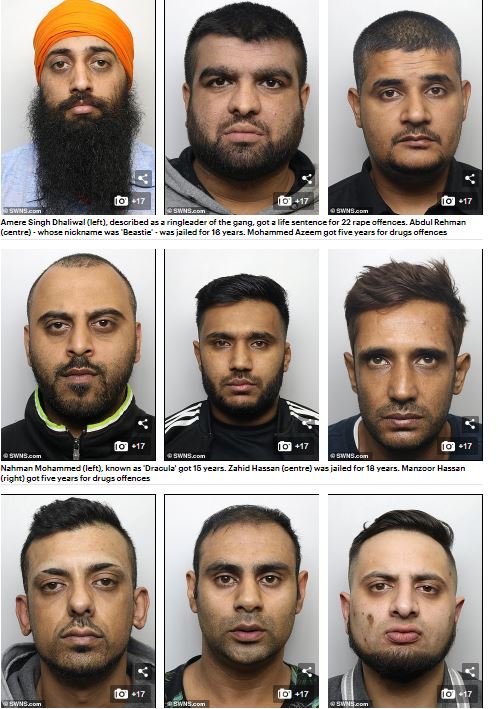 Tommy Robinson celebrates jailing of Asian sex gang whose trial led to his arrest as he slams 'establishment' for bailing them but locking HIM up after claiming one on-the-run rapist is in Pakistan
Huddersfield in Yorkshire is the latest UK town exposed as having Asian sex gang which operated for years
Gang of 20 men groomed, drugged and raped girls, some as young as 11. Their jailing can be reported today
One trial led to Tommy Robinson's jailing for contempt over social media posts he posted endangering case
Gang member made sickening call to a care home where one victim lived, saying:  'Tell her I want to f*** her'
Another went on the run after his victim identified him when she saw him in a shop. He was not at sentencing 
Tommy Robinson has celebrated the jailing of 20 sex abusers – despite nearly causing their trial to collapse – after a grooming gang who targeted vulnerable girls as young as eleven in Huddersfield were jailed for a combined total of more than 220 years.
As with similar cases in a string of British towns and cities, the gang plied their victims – some of whom were as young as 11 – with alcohol or drugged them before carrying out horrific sex attacks.
The court heard evidence from 15 victims during the trials and the judge said he fears none of them will ever recover from their ordeals.
In victim statements the girls described coming into contact with the abusers after being bullied at school and said the relationship became 'one of those things that you couldn't get out of'.
EDL founder Robinson – who was jailed for contempt of court after posting a video in breach of reporting restrictions in May, a move which put the trial in jeopardy – claimed without providing evidence that one defendant on the run had fled to Pakistan.
The pattern of exploitation of mainly white girls by groups of men of mainly Pakistani heritage mirrors what has happened in a number of other towns around the country, including Rotherham, Rochdale and Telford.
The Leeds trials attracted protests by right wing groups and EDL founder Tommy Robinson, who was jailed for contempt for endangering one of the cases with social media posts. He has since been freed but faces another hearing.