---
I've been making this point for almost three years. They simply can't be vetted. Even if they could be properly vetted, why would we want more unassimilable Muslims in this country? Same people who say they're against Jew-hatred, are for importing Jew haters by the tens of thousands…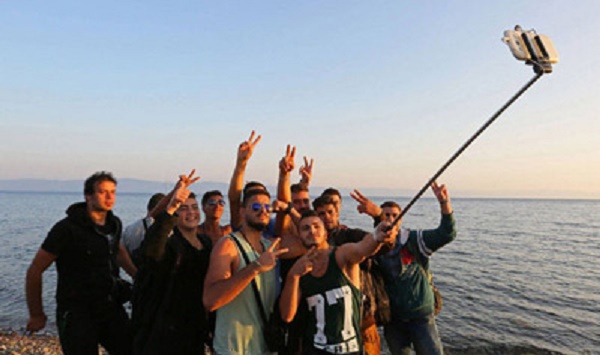 Almost every other asylum seeker's identity remains a mystery – we do not know for sure who is coming here
The identity is mostly left unresolved due to a lack of a passport. Sometimes the asylum seeker has no passport, sometimes the passport is deliberately hidden or destroyed.
This year about 1 300 people have applied Finland for a first-time asylum. About 520 of them are those whose identity is not certain. Or, as the Immigration Office's asylum decisions will be labeled: "Your personal information is based on your own admission.
On the other hand, the level of identification of asylum seekers has risen considerably. In 2015, the identity of only one out of every fifth asylum seeker had checked out.
The main reason for the improved clearing rate is probably that there is less to be clarified. The number of asylum seekers has fallen from 2015 to approximately one-tenth of that year.
– it is said that, at that time, officials' processing time per applicant was certainly shorter than it was normally. It was attempted to quickly get the into the books and files, says Esko Repo, head of the asylum unit of the Immigration Office.
On the other hand, the situation remains that almost every other asylum seeker's identity is still uncertain.
– This is a very big challenge. But here are the specific problems that Repo notes.
What are the problems?
"For known problems," Repo refers above all to a lack of reliable identification documents. A large number of asylum seekers do not carry a document such as passports.
Sometimes the passport has never existed and the asylum seeker has had a falsified document coming to Finland.
– People who are forced to flee, do not have the opportunity to move the appropriate papers in their pockets. Some come from countries where there is no such thing as a Western passport system.
There is another reason for the increase in the percentage of the survey: a larger number of asylum seekers are Russians, and they often have passports with them. Passports are missing, particularly from Iraqis, Somali and Afghani people.
However, if a passport is missing, it cannot be requested from the authorities in the country of origin. If a person is persecuted, the persecutor may be the domestic authority.
Passports are also hidden from the Finnish authorities. The reason for this is that it is difficult to return a migrant person to their homeland. Getting rid of a passport is, therefore, a means of delaying removal if the person is not given asylum.
Previously lost passports ' were found ', especially in the remainder of 2015 and at the beginning of 2016, when thousands of Iraqis decided to leave their homes before they even got their asylum decisions.
– Some of them were such that they did not show a passport to the authority when seeking asylum. But when it was needed for a trip to the home, the passport was found, Repo says.
Passports are also destroyed just before seeking asylum.
– It has, too, been said that the person who has just come from the airplane declares that he is seeking asylum. Then the aircraft has been identified with ripped and hidden passports. Even the machine's toilet has been made up of shredded and whole documents.
Hiding or destroying a passport does not reduce the chances of a safe haven. However, intentional disclosure of false personal information may lead to further questions.
– if it is found that a person has lied, then it will be further investigated. But if everything is logical and proven that the security criteria are met, then a tearing up of a passport will not lead to a negative result.
One reason for hiding an identity may also be that an asylum seeker is suspected of committing a crime.
For example, Abderrahman Bouanane, who sentenced to life imprisonment for terrorist murders, was suspected of an assault in Germany before going to Finland.
However, the previous acts did not come to the attention of the Finnish authorities, since, in applying for asylum in Finland, Bouanane lied about his name and age. The real identity survived after the Turku stabbing attack when the Bouananen passport was found by the German police.
The security problem is difficult to solve. Police officers in EU countries do not have a common register of which any fingerprints of a suspected offender could be checked.
– It is important that a Member State making the decision should have all the information about the person who is from elsewhere. It is not possible to improve the situation unless the information is exchanged between public authorities, Repo says.