---
A total asshat…
He's the same joker proudly pimping Iran's first ever Finnish hamburger restaurant, Hesburger in Tehran. Kämäräinen is part of the mindset that permeates the Finnish MFA and the Finnish UPI which back loops into a reoccurring echo chamber. "Business = eventual liberalization", though any Falun Gong member will tell you differently when relating their experiences in how for example 'business orientated' China has become more "moderate".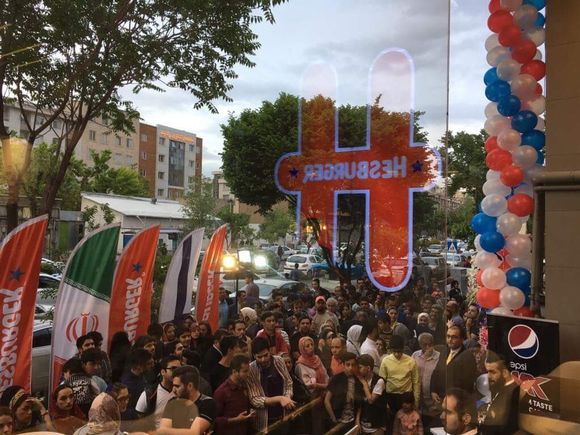 Last Thursday, I and Harri Kämäräinen, the leading foreign expert at the Ministry of Foreign Affairs, were on the YLE Radio 1 as a guest to discuss the riots in Iran. I could not but wonder about Kämäräinen's admirable attitude towards the Iranian state. In a radio interview, he was delighted with Iran's "freedom of speech" and freedom of assembly. As he glimpsed, he completely ignored the fact that, to date, the Iranian authorities have killed more than 25 people and imprisoned more than 1,000 people. The United States called the UN's Emergency Council, the other western nations contradicted the Iranian state's actions, and what does Finland do? Admires the country's freedom of speech.
This is not the first time that our high-ranking Finnish representatives are defending a dictatorship.
In January 2017 Soini underlined during the visit of Turkey that Finland continues to support the continuation of Turkey's membership negotiations. In addition, Soini praised the common democratic values of Finland and Turkey. This would be a very nice thing, unless Erdogan Turkey had long fallen deeper into the totalitarian Islamic-nationalist system. The country militarized, kills, imprisons and tortures its own citizens, women's rights are being violated, political parties abolished , entire cities are destroyed and freedom of speech does not even have a name. In addition, Turkey is threatening the EU and using the refugee card to squeeze them. Soini said at the same time Finland and Turkey have the same fundamental democratic values.
I understand that all countries must keep their own interests in mind. Nevertheless, one must not neglect human rights. The principles of equality should not be sacrificed by trade.
Hopefully, the Finnish authorities will remember how difficult it is for ordinary Iranians, Turks and other people living in dictatorships. Their only hope is the support of Westerners. So far, Trump has supported all Iranian demonstrators, even though he has no human rights record. I would have expected the same from Finnish decision-makers, we are a top freedom of speech respecting country.
They ask why they should interfere with the internal affairs of Iran and Turkey. The answer is simple: Iran and Turkey are constantly engaging politically and militarily in the internal affairs of other countries. They tend to slow down the criticisms of their administrations in western countries, as the numerous cases revealed to us, and give rise to and fuel crises in the Middle East.
Refugees will only grow if dictators are traded with and their administrations being used to prop up their regimes. If there is no support for equality, there can be no surprise in the face of the influx of refugees.