---
Finland has gone to Islamo-hell in a hand basket, amazing how quickly they've succumbed, but then again, they've a history with foreign bureaucratic hegemony…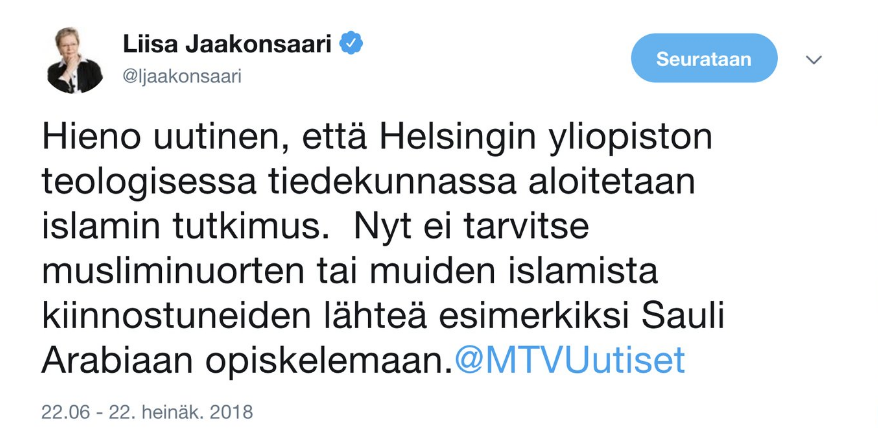 It is a great news that the study of Islam begins in the Theological Faculty of the University of Helsinki. Now there is no need for Muslim youth or other interested Muslims to go to Saudi Arabia, for example.
Yeah, the university is saying it will approach the study of Islam in the exact same way it approaches Christianity, with critical thinking. How much do you want to bet however, that understanding the koran chronologically, and with the koranic doctrine of abrogation given primary attention, will not be of any importance in their 'researching' of Islam?
New Islamic Teacher of the University of Helsinki Mulki Al-Sharmani Knows the Feminist Way of Interpreting Islam
Beginning next autumn, the theological faculty will teach more and more Islamic to future priests and religious teachers.
In today's world, ordinary priests and religious teachers need to understand Islam better. It was also a reason for the newly established theology of theology in the theological faculty . Every year, nearly two hundred theology of theology is completed in the faculty, many of which end up being priests and religious educators.
In January, an Academy researcher Mulki Al-Sharmani was elected to the post of new Islamic Theology . She is an anthropologist at the John Hopkins University in the United States who studies Islamic law and law, migration, Islamic marriages, and Islamic feminism. This background is also reflected in future teaching periods.
"The long-term aim is to study Islamic theology as a solid and well-developed part of the faculty's teaching," says Al-Sharmani.
She particularly emphasizes the importance of Islamic women scientists.
– This research has been of great importance during the past four decades.
(…)
Bible study methods do not apply to the Qur'an
Western countries have not studied the Qur'an with a similar historical- critical study as the Bible . Even in the theological faculty, this is not the goal, but the correlation between the Qur'anic research on the subject of exegesis and biblical research is considered to be the case. The focus is on interpretation.
Of course, it is a good idea for students to discuss the methods of Bible study, but in the upcoming classes of Islamic theology, the Qur'an is not taught using the same research methods as the academic Bible study, Al-Sharmani says.
In contrast, the  Quran is intended to study primarily from its own starting point. This will ask how the Koran touches the lives of Muslims in this age.
– In this case, their courses questions concerning the Quran is what the Qur'an means to modern Muslims in different contexts. What experiences do they have in the texts for everyday life? How do they perceive it in a new way and compare the different interpretations and legal perspectives of the text?
– In addition, they ask how to reorganize the authority of the Qur'anic interpretation, how to compare different perspectives and how to interpret the interpretation in some cases, Al-Sharmani lists.