---
He didn't review it all because he wanted to be the judge that sent Tommy to jail, intent, evidence and facts were just issues that would get in the way of what he wanted to do.
Then there's the Islamonazis out to hurt and maim his family. This man and his family need security 24/7, all because the police were politicized by a political class of abominable fools.
UPDATE. from Gates of Vienna: 
Tommy Robinson's lawyer says that a Muslim prisoner in the same prison as Tommy has threatened to kill him. Despite the fact that Tommy is in solitary 23.5 hours a day, the Muslim was able to get a message to Tommy promising an acid attack against the latter's wife. The threat included disturbingly specific personal details about Tommy's wife.
The judge who rushed to send activist Tommy Robinson to jail did not even watch the full video in which he supposedly breached contempt of court laws, his lawyers have claimed.
He is currently being held in segregation for his own safety in prison, but a radical Islamic extemist has managed to deliver a message to his cell threatening to kill him and attack his wife with acid.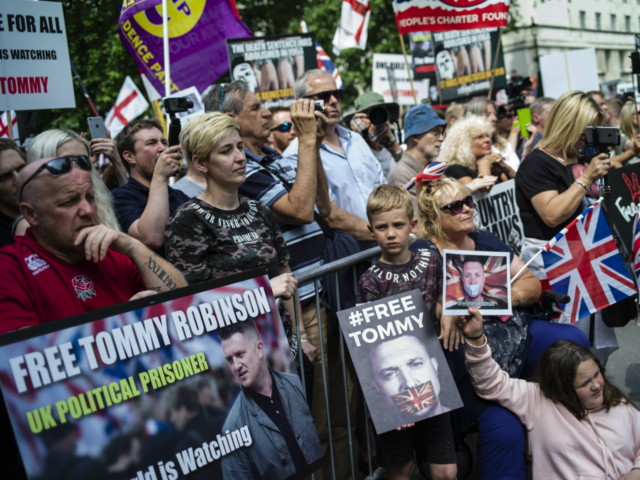 The message was reportedly from jailed terror supporter Sayful Islam, from Robinson's hometown of Luton, and used his spouse's full name, The Times reports.
He was sent to prison just five hours after his arrest, with court documents seen by the newspaper alleging his defence lawyer at the time had also not watched the broadcast in its entirety.
In the live broadcast to Facebook, now deleted, Robinson can clearly be heard saying he is aware of reporting restrictions, which his lawyers argue shows he was attempting to avoid breaching them.
Robinson was jailed in May after filming outside Leeds Crown Court during the trial of an alleged rape gang which was being hidden from the public.
Judges also banned reporting on Robinson's sentencing in the British media, with many articles wiped from the Internet.