---
They consider it just 'problematic'..?
Oh, and Anna Cantell-Forsbom is a big Gay-Pride supporter, who was following the recent happenings in Helsinki "From moment to moment". How she squares that round peg with the fact that she's for allowing not only Islamonazis back into Finland from ISIS areas (that were murdering gays), but giving them aid and comfort on the taxpayers' expense.
She's a radical kook..!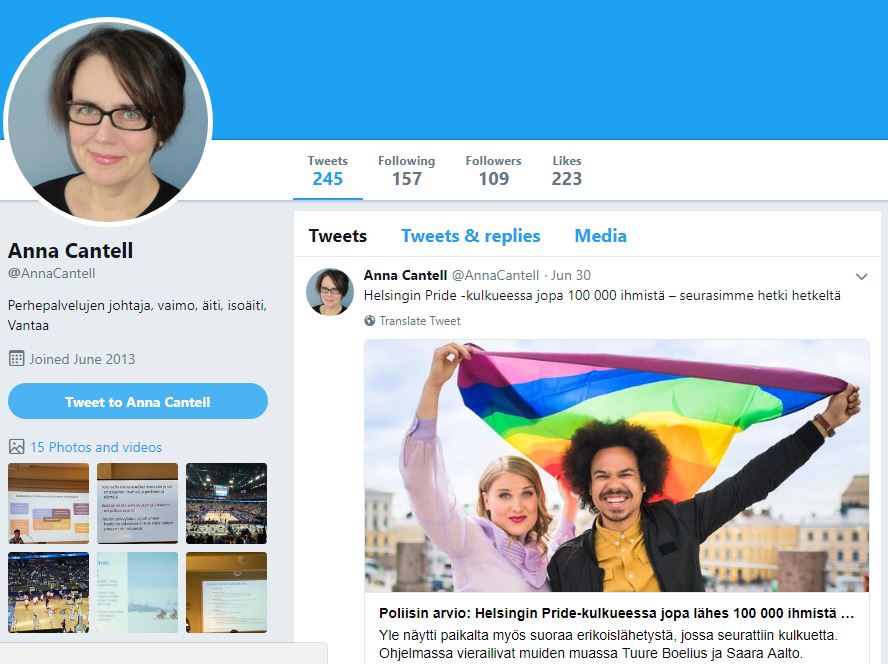 Isis fighters returning to Finland given "bypass lane" to social services – the ministry considers it problematic
The authorities have been thinking about the allowing of the Isis fighters returning to Finland "bypass lane" in housing queues and social services.
Returning combatants and their families from ISIS areas to Finland are linked to threats that could potentially appear as violence on the streets and in schools or, at worst, according to a  number of authorities, will lead to  mass murder and terrorist attacks.
Last month, the Ministry of the Interior issued a proposal for cooperation with authorities aimed at reducing threats by promoting the integration of these fighters and other people into the area, including with social services.
– It is essential for the integration of society from the battlefield to get the basics of their lives, such as housing and livelihoods, in the ministry's proposal.
The ministry points out that there might be a problem in a legal sense of granting a ' bypass lane ' to social services when other citizens are queuing up for a long time, such as for housing.
– This is particularly the question of whether such special support is seen in such a way that society rewards those who have acted against society.
According to the Ministry, social workers have to consider the problem in their practical work.
In the statement by the City of Vantaa, the Ministry of the Interior notes that the service system lacks the "special service and special treatment" needed for those returning from the battlefield.
– The risk is that the group in question will be completely out of service if the "bypass" is not developed, says Vantaa's statement.
ILTA-SANOMAT asked Anna Cantell -Forsbom, Director of Family Services in Vantaa, to clarify the statement.
– I think that if integration into society is the best safeguard against radicalization, housing, work and study are key, Cantell-Forsbom says.
According to Cantell-Forsbom, the threat of radicalization of scholars could be a justified reason for getting a quicker apartment.
– Naturally, there should be more support. The dwelling alone will not solve anything yet. Other pillars of life must be in order.
There have been some people in Vantaa City's services who have returned from the battlefield. In these situations social welfare and mental health services have been offered.
[…]