---
The neo-communist/Islamist alliance wants counter-protests to the "far-right". Anyone who speaks truths about the neo-communist/Islamist alliance has been declared "far-right". More & more events will be shut down, that's their sole intent – to silence.
I can't better what Waters wrote, so I won't.
We must come together to fight the resurgent racist right
Over 50 parliamentarians, trade unionists, faith leaders and anti-racism campaigners sign a letter warning of an emboldened far right and saying we must defend our multicultural society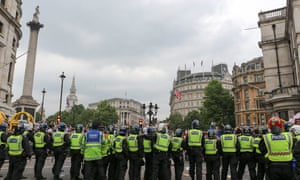 The 15,000-strong violent far-right protest to "free Tommy Robinson" on Saturday 9 June has raised major questions for all those who value our diversity. The racist right are using Robinson to reorganise. Nazi salutes and Islamophobia were at the centre of the mobilisation. This is the first serious attempt since the collapse of the English Defence League (EDL) to develop a racist street movement and give it a political form. It is supported internationally by notorious figures including from the US and the Dutch Islamophobic right.
It is absolutely vital that all who oppose this come together in a united mass movement powerful enough to drive these new developments on the far right back. Donald Donald Trump has played a major role in galvanising the racist right. We will take to the streets for the Together Against Trump demonstration coinciding with his visit on 13 July. And when Robinson's supporters take to the streets again on 14 July, we will protest against them too. Wherever the far right's support grows so does racism and violence. Let's come together to defend our multicultural society from those who spread hatred and division.