---
She's in part to blame…
She didn't rape or hold the neck of the hapless girl till all of her life ebbed out of her body, but she opened the doors wide for whomever to waltz in in spite of all the warnings not to do so.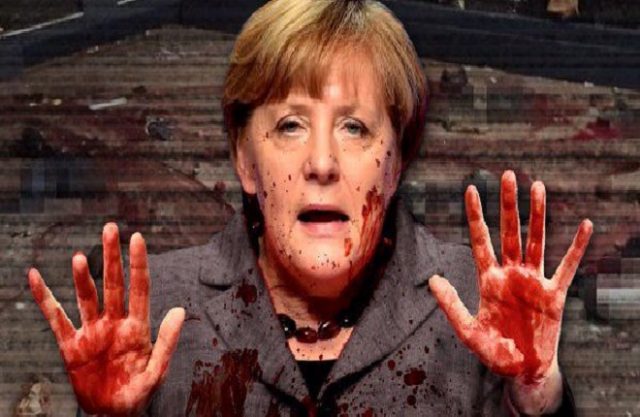 After Susanna Feldman's murder, Bashar fled the country, headed for his native Iraq. He should have been apprehended at the airport, since his name had been added to police watchlists, but in a bureaucratic screw-up, airport police failed to check that the name on Bashar's air ticket matched his identity papers (they did not). Once the uproar over the Feldman killing went viral, German police upped their game and quickly ascertained their suspect's location. With help from Iraqi police, Bashar was apprehended on June 8 and promptly put on a plane back to Germany. According to Kurdish authorities, the suspect has already confessed to raping and murdering the teenager. Bashar is presently in a high-security facility in Wiesbaden awaiting determination of what charges he will be tried for, and whether he will face them as an adult or juvenile.
The Murder That Changed Germany
Every so often, a crime occurs that so shocks the public, while perfectly playing to the political zeitgeist, that it radically alters debates—and ultimately politics. For Germans of the baby boom generation, that crime was the murder of Benno Ohnesorg, a student protestor, in West Berlin on June 2, 1967. Ohnesorg was a 26-year-old whose young wife was expecting their first child, and his first demonstration turned out to be his last. For reasons that were never completely clear, a policeman shot Ohnesorg in the head in an unprovoked attack.
The uniformed killer, Karl-Heinz Kurras, was a veteran of Hitler's army, a stand-in for all the things young West Germans loathed about their parents, and his crime outraged a generation. With "the shot that changed Germany," as millions remembered it, Ohnesorg became a martyr, inspiring a left-wing protest movement and eventually even terrorism against the West German state. What made this case truly interesting is that it emerged more than four decades later that Kurras, instead of being the fascist he so ardently seemed to be, was in reality a highly prized spy—a mole—for the East German secret police, the notorious Stasi. But that, like so much else, is another story.
Another momentous murder has now come to pass in Germany, one that seems likely to upend German politics just as the Ohnesorg killing did—albeit in a different direction. The victim here is a 14-year-old girl, Susanna Maria Feldman, who is from Mainz, a regional city on the Rhine in the heart of Germany. She disappeared from her home on May 22 and, although her distraught mother filed a missing person's report the following day, police did not commence any serious search until more than a week later, believing they had just another teenage runaway on their hands. Tipped off by a 13-year-old migrant boy living in an asylum shelter of the kind that dot Germany these days, the police soon had a suspect. Detectives found Susanna's body on June 6, in a wooded area near railroad tracks on the outskirts of Wiesbaden, a few miles from her home. She had been raped and strangled to death.
Her suspected killer is Ali Bashar, a 20-year-old Iraqi Kurd whose story reads like a sinister parody of the migrant crime wave that has swept Germany since Chancellor Angela Merkel opened the country's doors to refugees and asylum-seekers three summers ago. Bashar arrived in Germany in October 2015, as the migrant wave into Central Europe was cresting, along with his parents and five siblings. Like virtually all asylum seekers, the Bashars claimed to be refugees, when in fact they were economic migrants seeking a better life.
As a result, the young man's asylum request was rejected at the end of 2016 and, in a turn of events depressingly commonplace in today's Germany, he should have been deported but was not. Bashar requested an appeal to buy time, so his case fell through the cracks. His three years in Germany amounted to a one-man crime wave, including assaults on police officers, robbery with a knife, and possession of illegal weapons. In March of this year, Bashar was a suspect in the gang rape of an 11-year-old girl at the same refugee shelter where the Bashar family was living.