---
This joint op-ed by Rabbi Abe Cooper and Dr.Manfred Gerstenfeld was first published in The Hill, and republished here with the author's consent…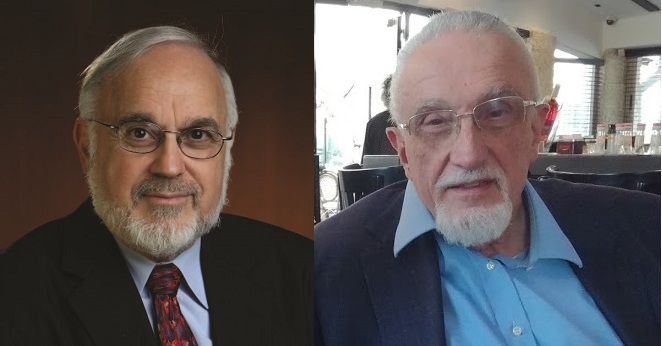 Germany's new antiSemitism commissioner must expose the truth
BY ABRAHAM COOPER AND MANFRED GERSTENFELD, OPINION CONTRIBUTOR — 05/10/18
THE VIEWS EXPRESSED BY CONTRIBUTORS ARE THEIR OWN AND NOT THE VIEW OF THE HILL
HTTP://THEHILL.COM/OPINION/INTERNATIONAL/387091-GERMANYS-NEW-ANTI-SEMITISMCOMMISSIONER-MUST-EXPOSE-THE-TRUTH
The recent surge of anti-Semitic incidents in Germany confirms the necessity for Felix Klein's appointment as the nation's first anti-Semitism commissioner. It is also an acknowledgement by the German government that it has failed to
deal effectively with the problem for many years.
As Mr. Klein will discover, classic and new anti-Semitism manifest in many ways — far beyond neo-Nazi hooliganism. A good place for him to start his
investigations would be a look at how Germans view the Jewish state. Nazi Germany demonized the Jews. Nowadays, large parts of mainstream
democratic Germany demonize Israel.
A University of Bielefeld study found that 51 percent of Germans agree or are inclined to agree that Israel treats the Palestinians the same way Nazis
treated toward the Jews. The 2004 study also found that 68 percent of Germans either agree or are inclined to agree that Israel conducts a war of
extermination against the Palestinians.
Hitler's Germany took only two years to murder almost 2 million people, mostly Jews, in three extermination camps — Belzec, Sobibor and Treblinka.
If the current, demonic views toward Israel — held by many Germans — were true, few Palestinians would remain. Indeed, the average fertility rate for
Palestinians in the West Bank, East Jerusalem and Gaza in the period 2011- 2013 was 4.1 children per woman.
One of the commissioner's first undertakings therefore should be a detailed study to identify where in German society the demonization of Israel originates — and he should place special attention on the media.
Reports about anti-Semitism in the United Kingdom and France suggest that anti-semitism comes from the extreme right, the extreme left, and Muslims. A thorough study must be done of Germany. Without it, it is far easier over the years to avoid necessary actions against anti-Semitism.
The time for guidance by political correctness has passed. Today's challenges go beyond swaggering young Nazi thugs. Anti-Jewish hate is manifesting violently on the streets of Berlin and other German cities, in the classrooms of public schools, where Jewish students are bullied, and from pulpits of Islamist theological genocide promoters.
More than three years ago, when Germany's current foreign minister, Heiko Maas, was serving as justice minister, the Simon Wiesenthal Center asked him how Germany planned to handle the anti-Semitic baggage brought by migrants from the Arab and Muslim world. There was no plan then; one million immigrants later, there still is no plan. From the very few partial current surveys, indications are that recent immigrants who arrived since 2015 from Iraq, Syria and Afghanistan are far more anti-Semitic than the native German
population.
To put it simply: A country, which two generations ago murdered up to six million Jews, should not have allowed — over the past decades — a single
anti-Semite to migrate to Germany. Yet, there's no screening process when it comes to Jew-hatred and there is precious little action to address this willfully blind policy and its consequences.
In addition, many anti-Semitic incidents have originated from within existing German-Muslim communities. These have usually been treated as single
events, including public attacks against individuals and synagogues as well as harassment of Jewish children in schools. It took the spectacle of the
public Israeli flag burning that took place in Berlin last December for leading politicians to finally acknowledge that anti-Semitism is a problem in parts of the Muslim community.
Jens Spahn, recently appointed Minister of Health, said in an interview that he sees immigration from Muslim countries as a reason for the recent antiSemitic demonstrations in Berlin, adding that such events "are also related to the immigration from a cultural environment in which one does not act toward Jews or gays weakly."
He added that when the hatred of Jews is preached every day in the news, in the family, and in the mosque, "These anchored attitudes are long lasting," becoming an "omnipresent part of daily life" in the nations from whence Muslim migrants came. Spahn also demanded that Muslim organizations have the obligation to also speak out. "When there is anti-Islamic hatred they rightly expect that we act against it. Thus, we should together show our flag against anti-Semitism."
It is crucial therefore to identify and take action against the sources of virulent Jew-hatred that are infecting immigrant communities. Anti-Semitism is
widespread in Europe. Yet, in view of Germany's past, it takes on particular dimensions there.
We hope the Commissioner Klein's mandate and funding will be broad enough to investigate, expose and lead to robust new policies that will
confront these new and old manifestations of anti-Semitism. By presenting a real-time, unfettered picture of anti-Semitism, he will help ensure that Jews can again walk the streets of German cities without fear of demonization or attack. We also hope these efforts will inspire Germans to forever serve as guardians of memory — not rewarders of those who mock of the Holocaust.
Successful execution of this assignment is not only crucial for Jews but also for the well-being of democratic Germany.
Rabbi Abraham Cooper is Associate Dean and Director of Global Social Action, of the Simon Wiesenthal Center. Dr. Manfred Gerstenfeld is a prolific
author and former Chairman of the Jerusalem Center for Public Affairs.