---
If an interested intrepid reporter digs enough, the same will probably be found with Finnish former president Martti Ahtisaari's CMI…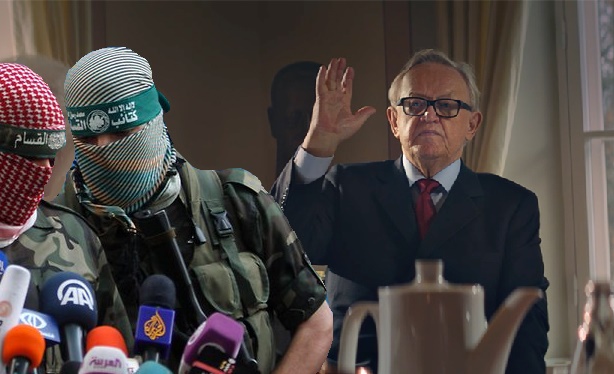 CARTER CENTER SUED FOR PROVIDING SUPPORT TO HAMAS
Jimmy Carter's unstinting hatred for Israel paved the way.
April 27, 2018
The Washington Free Beacon reported Monday that the Zionist Advocacy Center is alleging in a suit that former President Jimmy Carter's nonprofit organization, the Carter Center, "has used taxpayer funding to provide material support to international terrorist groups, including Hamas." Given Carter's longstanding and abundantly established hatred for the Jewish state, this allegation is no great shock. Nonetheless, the specter of an American President's foundation funding a jihad terrorist group demonstrates how far we have fallen.
The Zionist Advocacy Center further alleges that the Carter Center "received more than $30 million in taxpayer grants while violating federal statutes barring it from using the cash to provide material support to terror groups." Not only that: "The plaintiffs maintain the Carter Center has violated the law by hosting designated terrorists at is facilities, as well as by providing various forms of assistance to the Palestinian terror group Hamas and other known terror entities."
No one who has watched Carter over the years can really be surprised. Back in 2008, Carter claimed that Hamas was prepared to accept the right of Israel to "live as a neighbor next door in peace." He had no grounds for saying so, and it wasn't remotely true, but this claim helped him perpetuate the fiction that the Israelis, not the Palestinians, were responsible for the failure of all peace talks and the ongoing tensions between the two.
Two years before that, Carter published the notorious book Palestine: Peace Not Apartheid, in which he ignored the jihad imperative to destroy Israel, and the numerous maximalist and even genocidal declarations from Palestinian leaders, and painted an outrageous fantasy of a peaceful Palestinian people, ennobled by suffering and besieged by a rapacious Israeli war machine that was imposing apartheid policies in the name of a false need for security.