---
Former OIC sec-gen Ihsanoglu told me face to face in Helsinki that: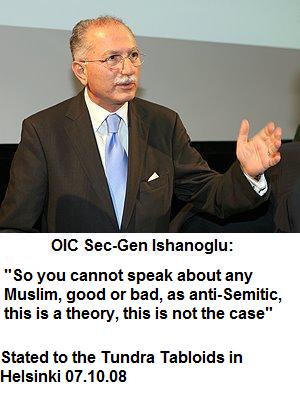 Because they 'revere the prophets', it's like the WCC leadership saying no Christian could ever be an antisemite because Jesus was a Jew.
French Muslims blast anti-Semitism letter as attack on Islam
PARIS (AFP) – 
A French manifesto calling for certain passages of the Koran to be removed on the grounds of rising anti-Semitism sparked anger Monday from Muslims who said their religion was being unfairly "put on trial".
The open letter published Sunday in the Parisien newspaper blamed "Islamist radicalisation" for what it said was "quiet ethnic purging" in the Paris region, with abuse forcing Jewish families to move out.
After a series of high-profile attacks on Jews, Muslim leaders contacted by AFP acknowledged that anti-Semitism was a problem in France.
But they charged that the nearly 300 signatories, who included ex-president Nicolas Sarkozy and former prime minister Manuel Valls, were blaming a whole religion for the actions of an extremist minority.
"The only thing we can agree on is that we must all unite against anti-Semitism," said Ahmet Ogras, head of the French Council of the Muslim Faith umbrella group.
Dalil Boubakeur, rector of the Grand Mosque of Paris, said the manifesto "subjected French Muslims and French Islam to an unbelievable and unfair trial".