---
The Israeli PM is responding to the verbal diarrhea from Turkey's dictator Recep Tayyip Erdogan (I just hosted a former Turkish Supreme Court justice who threw him into prison some years ago) who dared to chastise the Jewish state for defending its borders…
The poobah isn't used to hearing people talk back to him, or giving him 'the size ten' to the hindquarters.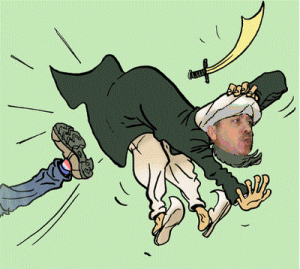 Netanyahu Fires Back:
'Who is Turkey calling an occupier?'
Israeli premier blasts Turkish president, who called Israel 'terrorist state, occupier'. 'Erdogan isn't used to people talking back to him.'
Prime Minister Binyamin Netanyahu hit back at Turkish President Recep Tayyip Erdogan Sunday evening, after the Turkish leader accused Netanyahu of being a 'terrorist', and described Israel as a 'terror state'.
Earlier on Sunday, Erdogan gave a televised speech in southern Turkey, during which he denounced Israel for its response to a Hamas-led provocation on the Israel-Gaza border on Friday.
"Hey Netanyahu! You are occupier. And it is as an occupier that are you are on those lands. At the same time, you are a terrorist," Erdogan said in a televised speech in Adana, southern Turkey, AFP reported.
During his speech, Erdogan also dubbed Israel a "terror state".
"I do not need to tell the world how cruel the Israeli army is. We can see what this terror state is doing by looking at the situation in Gaza and Jerusalem," Turkey's Daily Sabah reported Erdogan as saying.
"Israel has carried out a massacre in Gaza and Netanyahu is a terrorist," Erdogan said.
The Israeli premier responded Sunday evening, tweeting that Turkey, not Israel, is the occupying power.
"Erdogan is not used to having people talk back to him. But he should get used to it. Someone who occupies Northern Cyprus, invades Kurdish areas and massacres civilians in Afrin won't lecture us about morals and values."
On Friday, tens of thousands of Arab protesters marched towards the frontier, the beginning of six weeks of planned protests against President Donald Trump's recognition of Jerusalem as Israel's capital.