---
Oh, and 'Crazy Ken' was interviewed by the Finnish state broadcaster YLE and allowed to spill his bile, that it was Israeli soldiers that attacked him, but in fact it was O'Keefe who attacked the soldiers.
I'm not holding my breath that Yle will be correcting and distancing itself from its own fake news report.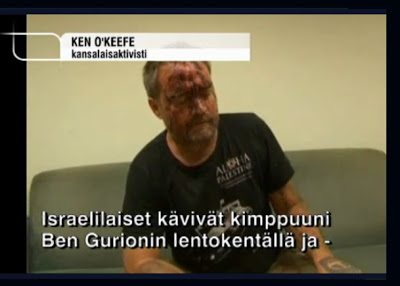 Free Gaza spox admits activist initiated fatal 2010 violence aboard Mavi Marmara
Report on inner-workings of anti-Semitic group reveals that Greta Berlin belatedly acknowledged 'crazy' Ken O'Keefe seized IDF commando's gun, sparking fight in which 10 Turks died
LONDON — A leading pro-Palestinian campaigner involved in the flotilla that attempted to enter Gaza in May 2010 has appeared to corroborate Israel's version of the events which led to the bloody confrontation on board the Mavi Marmara.
Ten Turkish activists died after IDF commandos boarded the ship — the largest in the six-vessel convoy — as it sailed towards the Hamas-ruled coastal enclave in defiance of an Israeli security blockade designed to prevent the terror group importing weapons.
In newly revealed posts from a secret British Facebook group, Greta Berlin, the co-founder and spokesperson of the Free Gaza Movement, states that the Israeli troops did not open fire until after Ken O'Keefe, a former US marine aboard the Mavi Marmara, had seized a gun from one of them.
During a heated online debate, in the safety of a Facebook group of pro-Palestinian activists who had all been approved or invited to join, Berlin repeatedly challenged comments from other members praising O'Keefe.
"He was responsible for some of the deaths on board the Mavi Marmara. Had he not disarmed an Israeli terrorist soldier, they would not have started to fire. That's enough. Most of you have no idea what you're talking about," she wrote.
Berlin's comments, posted in 2014, were made on the Palestine Live group.