---
Helsinki University should thank this blog for warning them on Twitter about Tariq's rape charges, they soon cancelled a paneled event he was scheduled to speak on after I contacted them.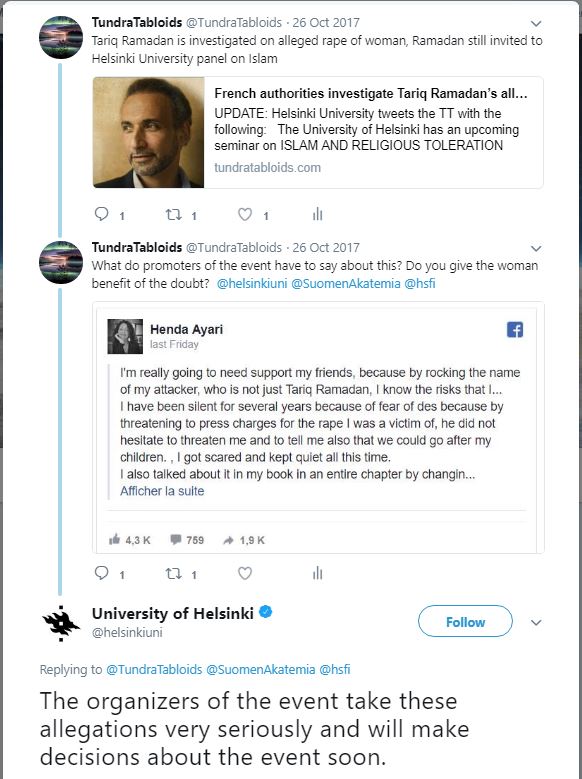 I asked: "Will you make your determination public?"
Third woman accuses Swiss Islamic scholar Tariq Ramadan of rape
7 March 2018
21:16 CET+01:00
A protester supports Tariq Ramadan in Paris on February 22nd. Photo: AFP
A third woman has accused prominent Islamic scholar Tariq Ramadan of rape, a month after he was indicted over similar charges and remanded into custody, judicial sources told the AFP news agency on Wednesday.
The French Muslim woman, who wants to remain anonymous and uses the pseudonym "Marie", says she was raped on multiple occasions in France, Brussels and London between 2013 and 2014.
She has accused Ramadan, 55, of subjecting her to violent and sexually degrading acts during a dozen meetings, often in hotels at the sidelines of conferences.
"Marie tried in vain to escape the influence of Mr Ramadan who did not stop threatening her," according to a judicial source, discussing the period between February 2013 and June 2014.
Ramadan, a prominent TV pundit and Oxford University professor whose grandfather founded Egypt's Muslim Brotherhood movement, was detained on February 2nd over charges he raped two Muslim women in France, which he denies.