---
Because everyone wants to hear the braying of an ass five times a day…
Using a sophistry that's as smooth as silk, they merrily lead their dancing dhimmis to eventual servitude…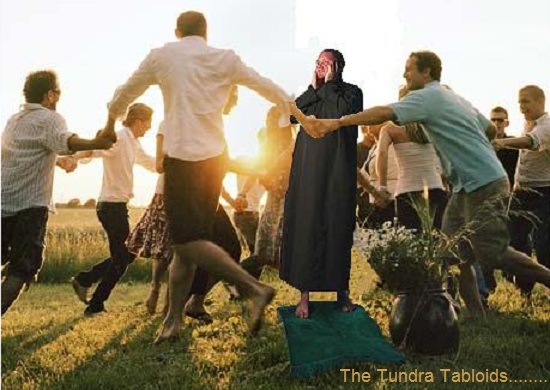 "I think that [allowing the call to prayer] is good for integration, and it will provide confirmation of religious freedom," said Abu Helal. "Muslims are not visitors in Växjö, we live here."
'We Are Not Visitors': Muslims in Sweden Demand Mosque Call to Prayer
Muslims in Sweden have applied for permission to broadcast the call to prayer, claiming the move would boost community self-esteem and assist with integration.
The Växjö Muslim Foundation submitted an application to the police requesting permission to send out a three-minute Islamic call to prayer each Friday from a loudspeaker attached to the front of a mosque in the city's Araby district.
"We are just wanting Sweden to allow Muslims in Växjö to feel even more at home. The Islamic community should be proud of their culture, and not feel like they have to hide," said Imam Ismail Abu Helal.
The imam told Smålandsposten he believes allowing the call to prayer could have a positive effect on the city, and that it would help enable Muslims to better integrate into Araby, a district in which already by 2008, 58 per cent of residents were recorded to have had foreign backgrounds.