---
Israel – Jerusalem rallied today in Helsinki, with participants all over Finland including members of parliament Peter Östman, Antero Laukkanen and Mika Niikko. 
Organized by the Finnish-Israel Friendship organization. Finnish MTV3 News was there and filed this report:
Hundreds of marchers in Helsinki opposed to the division of Israel and Jerusalem
The march went from the Senate Square to Parliament Building, where it stopped to listen to speeches and giving the address to the MPs.

The purpose of the march was to support Jerusalem as the undisputed capital of Israel. The signatories of the address demanded that Finland be divest from the "dividing of Jerusalem" for its own security.

General Director of the Helsinki Police Department, 

Patrik Karlsson

 estimates that hundreds of people participated in the march. There was no anti-demonstration by the police, and the opportunity went without interference.
Hundreds marched for Israel on the center of Helsinki
According to the police, the march has been calm.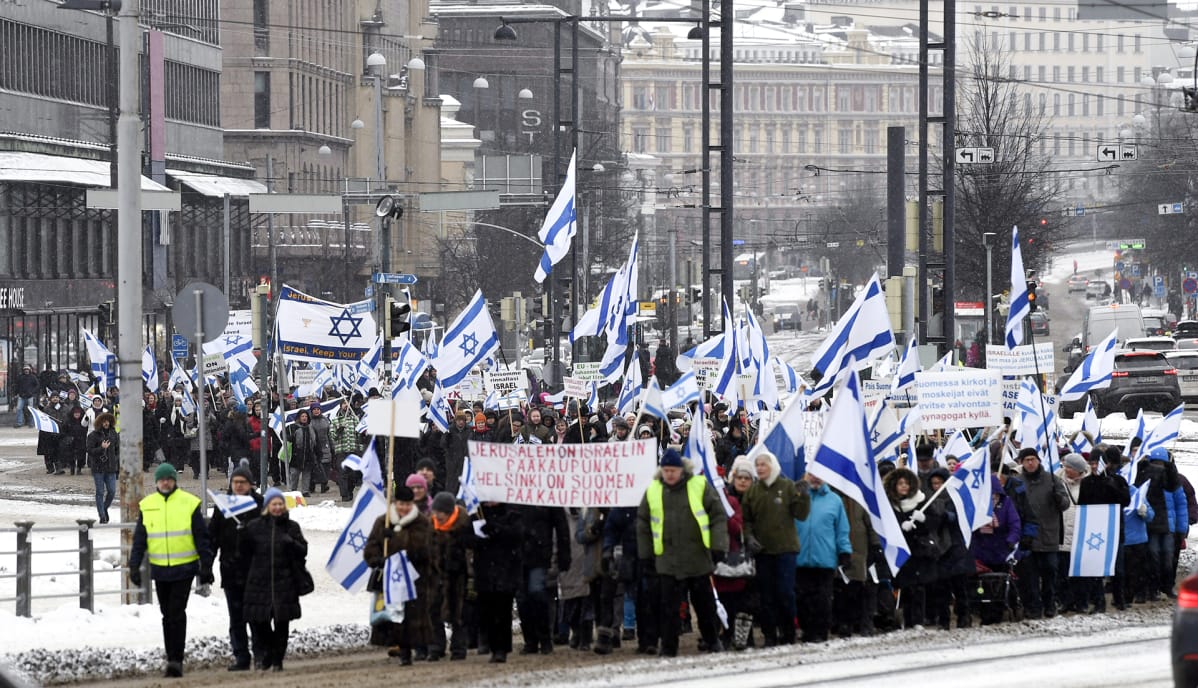 In downtown Helsinki, on Sunday, on behalf of Israel. The March issue organized by the Israel-Friendship Committee expressed support for Jerusalem "as still Israel's undivided capital".

According to the Helsinki police, hundreds of participants have participated in the march and has been calm.

Approximately 2000 participants were expected to attend the march. The march, starting at 14 o'clock in Senate Square, proceeded through the North Esplanade and Mannerheimin to the Parliament Building, where an opportunity was organized.
Following pictures posted thanks to VOIS (Voice of Israel in Scandinavia):
Video viewable on Facebook page here.