---
Rosa Parks was no Tamimi..!
Frank Johansson of Scum-gate fame is still heading the Finnish branch of Amnesty International. Frank was forced by the UK's main office to apologize to Israel's ambassador at the time, Amb.Avi Granot (thanks to yours truly) for calling it a scum-state in a blog post which he identified himself as the chairman of the Finnish branch for A.I.. Frank's outfit is still providing a platform for anti-Israel activity under the very thin veneer of civil rights for the Islamonazis who refuse to end their dirty terrorist war against the Jewish state.
Scum-gate Frank's anti-Israel outfit coordinates with other anti-Israel outfits like ICAHD, run by the likes of radical Leftist Syksy Räsänen, Bruno Jäntti etc., and will use any provocation by their Islamonazi alliance in the PA areas to spin an anti-Israel meme here in Finland. Once again they go too far in their rhetoric, by tarring the great US civil rights icon, Rosa Parks (I actually sat on the bus she rode on, in Dearborn Michigan's Henry Ford Museum) with the agent provocateur, Ahed Tamimi, a 17-18 y/o professional anti-Israel activist. AI:
 The activist Ahed Tamimi, called ' the Palestinian Rosa Parks ', is threatened with a prison sentence of up to ten years for clashing with Israeli soldiers.
Here's Finland's ICAHD branch original tweet which 'Scum-gate Johansson retweeted. I'm blocked by these Jew haters: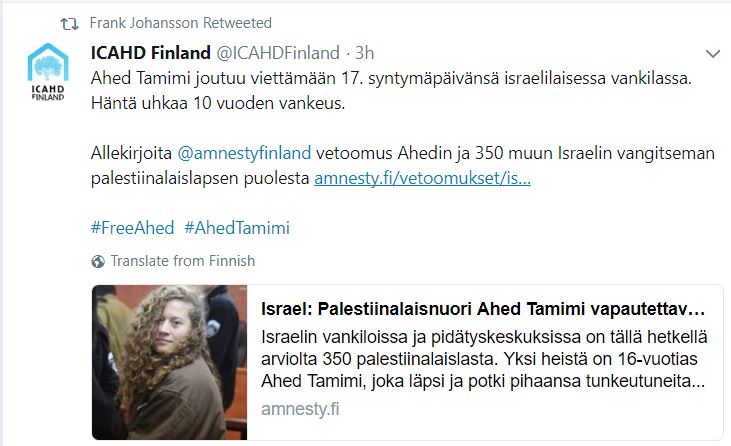 "Ahed Tamimi is spending her 17th birthday in an Israeli prison. She's threatened with 10 yrs. Sign AI's petition etc. bla bla bla".
She is no Rosa Parks, who behaved according to Dr.Martin Luther King's principled code of non-violence. Ms.Parks never slapped, hit, bit, spit or kicked any official arresting her. Ms.Parks was also working towards the advancement of real civil rights, not for the destruction of the other. This incredibly stupid and insulting meme has to be brought to an end.