---
Doing what they do best, hating, while shouting allahu akbar…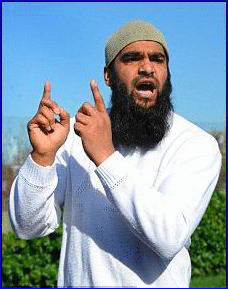 Palestinian Factions Compete to Show Who Hates Israel and US More
"Moderate" Palestinians try to outdo Hamas terrorists' rhetoric by praising the murder of Israelis and castigating US leaders.

By: Bassam Tawil/The Gatestone Institute
Is there any difference between the "moderate" Fatah faction headed by Mahmoud Abbas and Hamas?
In recent weeks, Fatah, which is often described by Westerners as the "moderate" and "pragmatic" Palestinian faction, has escalated its rhetorical attacks against Israel and the US to a point where one can no longer distinguish between its rhetoric and that of Hamas.
Like Hamas, Abbas's Fatah regularly glorifies terrorists and encourages Palestinians to take them as role models. This is the very Fatah that is supposed to be Israel's peace partner and whose leader, Abbas, claims that he is still committed to the "two-state solution."
The latest example of Fatah's glorification of terrorists came last week, when the Israel Defense Forces killed Ahmed Ismail Jarrar, of Jenin, in the northern West Bank. Jarrar belonged to a terror cell whose members murdered Rabbi Raziel Shevach two weeks ago.
Although Jarrar is believed to be a member of Hamas, Fatah was quick to publish posters depicting him as one of its "martyrs." In one of the posters, Fatah described the slain terrorist as a "hero" and "martyr of Jerusalem."
Fatah's student faction at Al-Quds University also confirmed that Jarrar was one of its members. In a statement published hours after the terrorist was killed, the Fatah Shabiba [Youth] Movement at Al-Quds University boasted that he was "one of our prominent leaders and a member of our administrative body."
Palestinian activists in Jenin claimed that Jarrar had served as an officer with the Fatah-dominated Palestinian Authority (PA) security forces. However, a Palestinian security official denied the claim. The denial is seen as an attempt by the Palestinian Authority to distance itself from the involvement of one of its members in terrorism. The Palestinian Authority has good reason to be worried: its security forces are funded and trained by American and European experts.