---
Keeps checking the right boxes…
If we didn't live in an age of Islamo-terrorism, I would just place the issue before the free market, meaning that shop owners, banks, transportation etc., would have the right to discriminate in the same way they do with 'no shirts, shoes no service'. We live in a period where threats to security are high, burkas are just to convenient of a garment to use to pull off an attack.
Of the presidential candidates only Huhtasaari wants to ban use of the burka
Of the presidential candidates, only Laura Huhtasaari, who is nominated by the The Finns party, believes that a woman's face and body-covering burka should be banned in Finland.
Laura Huhtasaari explains that Finland's asylum system is broken.
Only the presidential candidate of The Finns, Laura Huhtasaari is of the opinion that women face and body covering the burkha should be banned in Finland – as is the case for example, in Belgium and in France.
– I do not understand why women must be made invisible, it is also a security issue. In our culture, women are not completely covered, Huhtasaari said.
SDP candidate Tuula Haatainen emphasized that in Finland wearing a burka is not forced on anyone.
[TT note: Tell that to the number of children and women forced to wear it by their fathers/husbands. The SDP candidate has got her head in the sand.]
– I look at it this as a new thing for us, we have people among us who use burkas.
According to Haatainen, it is essential that women are not subjected to staying at home and that they also have access routes.
The worst thing is if the clothing rule prevents women from moving around in society.
The same was true of the center's candidate Matti Vanhanen.
– Yes, that we would take legislation to regulate clothing, would seem strange . The essential thing is that at the same time women have a genuine right to decide, Vanhanen said.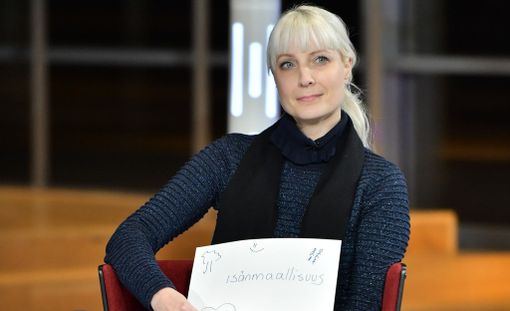 I do not understand why women should be made invisible, it is also a security issue, Huhtasaari said in the presidential election.