---
More power to them…
Rotterdam is one of the most Islamized cities in Europe — it's right up there with Birmingham, Malmö, Marseille, and Berlin.

This afternoon Geert Wilders and the Party for Freedom (Partij voor de Vrijheid, PVV) held an anti-Islamization rally in Rotterdam. Hundreds of PVV supporters marched with Mr. Wilders and listened to him speak.

Representatives of the Flemish separatist party Vlaams Belang were also present for part of the rally. In the photo below you can see Vlaams Belang leader Filip Dewinter holding the banner while marching alongside Geert Wilders:
PVV on the street in Rotterdam, Vlaams Belang joins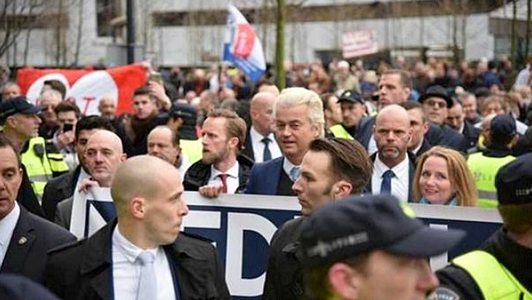 THE HAGUE – The PVV is holding a demonstration in Rotterdam on Saturday afternoon against the Rutte III cabinet, discrimination against the Dutch and Islamization. The Flemish party Vlaams Belang announced to join dozens of sympathizers.
PVV leader Geert Wilders calls on people to come to Stationsplein to show their displeasure: "Enough is enough." The demonstration is the beginning of the demonstration tour announced by the party.
The PVV participates in the municipal elections in the port city in March, and thus enters into a fight with, among other things, Liveable Rotterdam.