---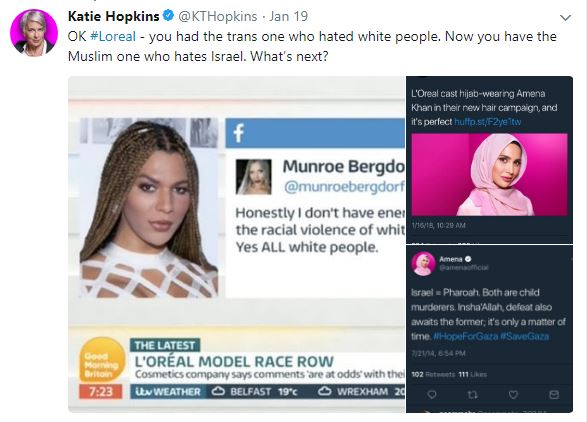 L'Oreal's Muslim Model: 'Sinister' Israel 'Are Child Murderers', 'Defeat Awaits' Them
L'Oréal Paris UK's new hijab-wearing Muslim model has made numerous anti-Israel posts on Twitter, calling the nation "sinister," "child murderers," and claiming "defeat" awaits them.
Amena Khan entered the spotlight this week after being featured in a L'Oréal hair product advertisement while wearing a hair-covering hijab.
"Whether or not your hair is on display it doesn't affect how much you care about it," declared Khan in response to critics, while L'Oréal Paris UK General Manager Adrien Koskas praised the advertisement as a "disruptive campaign for the haircare market."
Several Twitter posts from Khan's verified account, however, reveal the model's anti-Israel beliefs. The tweets were deleted before noon on Friday — after they were discovered by Twitter users — but not before Breitbart Tech archived them for posterity.