---
Just switch the name of Iran to Israel, and you would see an entirely different approach by Wallström and other EU hack politicians…
I hate to bring up Israel's name but the hypocrisy here is maddening. The Jewish state takes extreme caution in handling Arab rioters, issues operative orders to be strictly adhered to, and punishes those who cross the line. The Arab/Muslim world does not, it behaves in the most atrocious ways imaginable and hardly ever receive the same kind of condemnation that Israel routinely gets by jerks like Wallström.
NOTE: 'Humanitarian racist':  "A humanitarian racist is best defined as someone who attributes intrinsically reduced responsibility for their acts to people of certain ethnic or national groups."
Wallström: The killing of Iran is completely unacceptable
The violent demonstrations in Iran concerns Foreign Minister Margot Wallström (S).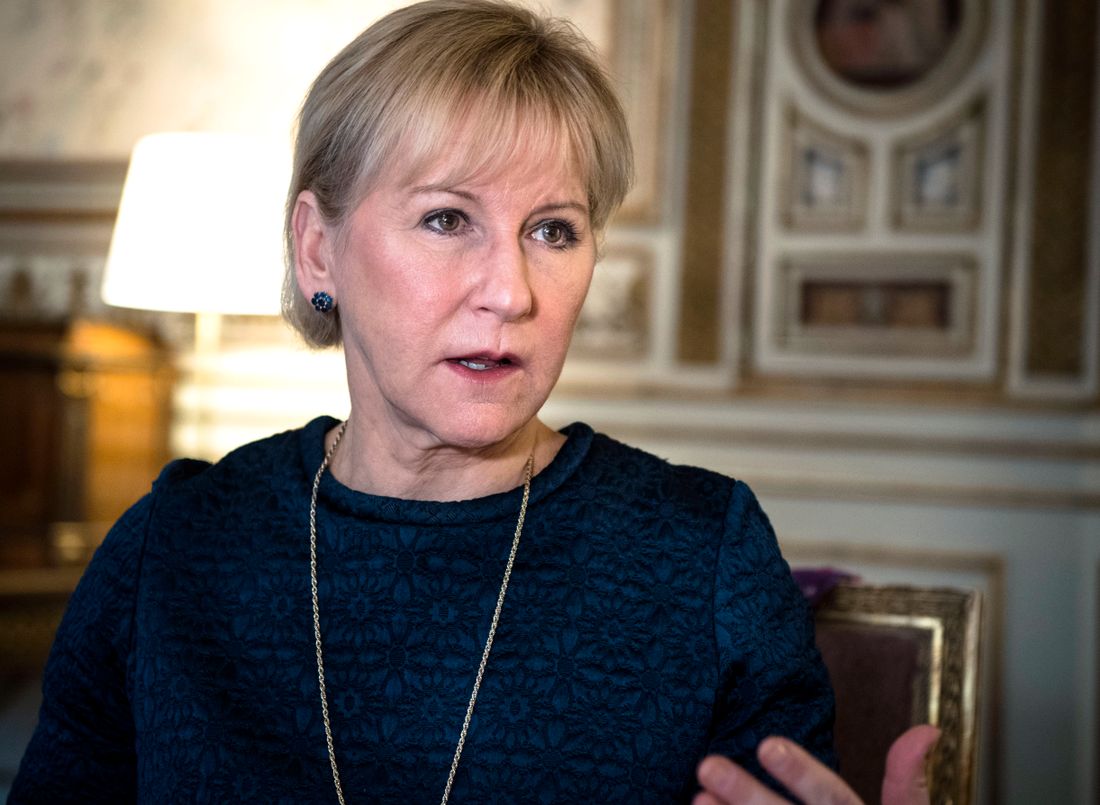 But she is doubtful that the issue requires an additional meeting of the UN Security Council right now.
"It's completely unacceptable the killing of protesters, violence is never the way forward," Wallström says.
Foreign Minister Margot Wallström met on Wednesday morning with the Swedish media in response to developments in Iran , some 20 people lost their lives in connection with demonstrations.
– I think most people follow what is happening in Iran with great concern and dismay, some 20 people have been killed. But there is also hope for the future that people dare to say what they think and to protest against what they perceive is unfair politics, unemployment, social problems and a desire for greater freedom, "said the Foreign Minister.
Margot Wallström emphasizes that Sweden is following the developments in Iran very carefully and also says that it is behind the EU line in this matter.
She herself emphasizes that Sweden has made its criticism in many different ways – in dialogue with the Iranian government through various forms of diplomatic contacts.
– We continue to press Iran to ensure that we get all these issues in dialogue with the government there. We do it in all our contacts, when we have bilateral talks, when we visit, when we talk to Iran, these are very important issues to discuss and we also make statements about what has happened lately.
However, the Foreign Minister himself has criticized, among other things on discussion sites, not to be keen enough in her condemnation of the Iranian regime's action against the protesters.
"I have been one of the first, perhaps the first foreign minister in the European Union, who expressed my opinion and what I said is in line with what the EU expressed and what we jointly say. We say it's totally unacceptable with the killing of protesters and violence is never the way forward with regard to this kind of example of popular rebellion, "Wallström says.