---
No Arabs were warned of, let alone felt, any danger by Jewish 'extremists' after Sweden recognized 'Palestine' as a state…….
State Department warns Americans they are in danger from terror attacks WORLDWIDE following Trump's Jerusalem decision
President Donald Trump announced Wednesday that the U.S. is officially recognizing Jerusalem as Israel's capital, and will move its embassy there
Reaction in the Middle East was swift and angry with violence breaking out in Bethlehem and other parts of the West Bank, and in Gaza
The U.S. State Department issued a global alert warming Americans traveling overseas that they could be in danger
The warning didn't specifically mention Jerusalem or Trump's speech
But State is already giving talking points to its staff in Tel Aviv, asking them to counsel Israeli diplomats to resist goading Palestinians with overreactions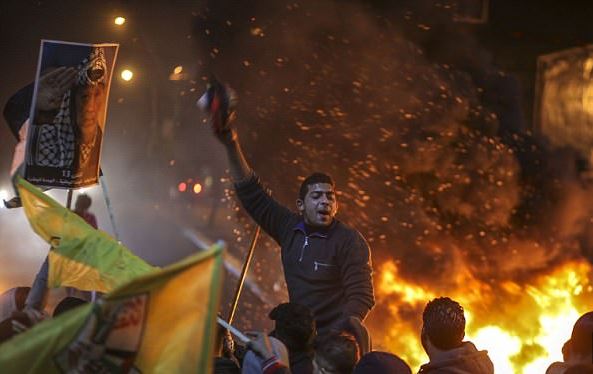 The State Department issued a new 'Worldwide Caution' to Americans traveling overseas on Wednesday, after President Donald Trump announced the U.S. has officially recognized Jerusalem as Israel's capital.
The update did not include specific warnings about Israel, the West Bank and Gaza; that region's travel advisory dates back to April.
But the State Department did advise Americans to avoid Jerusalem's Old City and the West Bank on Tuesday, anticipating strong reactions to Trump's speech once the subject matter became public.
The global warning advised American citizens to 'maintain a high level of vigilance and take appropriate steps to increase their security awareness when traveling.'