---
This looks like criminal activity by the Dutch police, did they in fact want the man to commit his crimes..?
This is what Palestinian police did in Ramallah when two IDF soldiers strayed into the area, and were brutally murdered by the mob as their cops just stood by and watched them.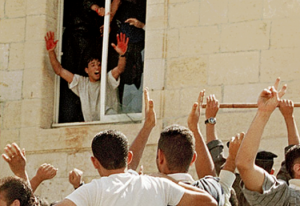 MAN HOLDING PALESTINIAN FLAG SMASHES WINDOWS OF KOSHER RESTAURANT IN AMSTERDAM
 DECEMBER 7, 2017 14:28
AMSTERDAM — Police are investigating the smashing of the windows of a kosher restaurant in a heavily-Jewish part of the Dutch capital by a man wearing a Palestinian flag.
The incident at HaCarmel restaurant occurred Thursday morning, hours after US President Donald Trump recognized Jerusalem as Israel's capital. The AT5 television station showed a video of the incident, in which a man holding a large stick while holding a Palestinian flag and wearing a Palestinian keffiyah, or shal, on his head proceeds to smash the window and kick down the restaurant's doors as passersby and two police officers look on.
The officers wait until he breaks into the restaurant. They pause as he returns out to the street from the restaurant's interior holding an Israeli flag that he took from there. He throws it at their feet. They then overpower the man and arrest him.