---
Here is the Tweet by Yahoo Canada News still unchanged as of 27.11.2017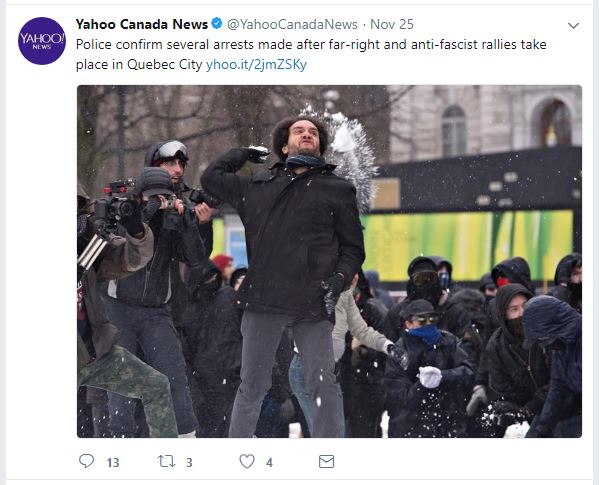 Several arrests in Quebec City near duelling right-wing and anti-fascist rallies
QUEBEC — Tensions flared during rival demonstrations by right wing groups and their opponents in Quebec City on Saturday, prompting police to arrest dozens of people as they worked to keep the two sides apart.
Police arrested a total of 44 people in two separate incidents, according to police spokesman Andre Turcotte.
These included a first group of 21 individuals who were arrested early in the afternoon for "plotting to counter the protest" that had been organized by right wing groups, he said.
"Weapons were found: telescopic sticks, slingshots, bottles containing a liquid that is for the moment unknown, and in addition their faces were covered," he said.
The suspects were questioned and could face charges of conspiracy for unlawful assembly and wearing disguise for a dangerous purpose, he added.
Another 23 people associated with the counter protest were arrested later after they failed to disperse, Turcotte said.
No injuries or property damage was reported.
Police say about 1,000 people participated in the two demonstrations.
More here
at the purveyor of #faknews, The Canadian Press