---
This is how the media chooses to lie to the people, calling Muslims "Asians", when in fact their single most identifying feature is that they're Muslims, and that they choose their victims based upon their not belonging to the Muslim community.
Three Asian men who befriended a 'vulnerable' girl, 13, in Rotherham before plying her with alcohol and passing her between them for sex are jailed for more than 20 years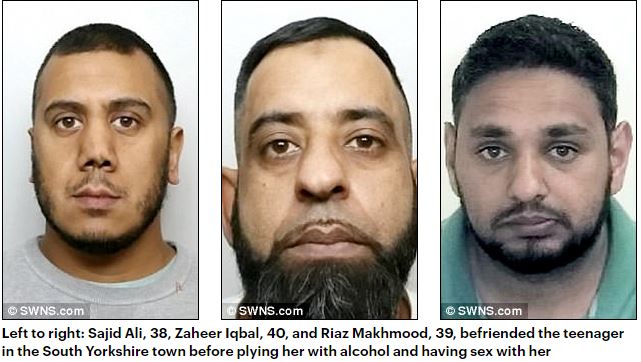 Trio plied girl with alcohol and 'passed her around' for sex in Yorkshire town
Victim, who suffered eating disorders and depression, came forward in 2014
Three men have been convicted of 15 counts of indecent assault after a trial
Two of the three got seven-and-a-half-year terms. Other got nearly seven years 
Three Asian men have been jailed for more than 20 years for indecently assaulting a 13-year-old girl in Rotherham in the 1990s.
Sajid Ali, 38, Zaheer Iqbal, 40, and Riaz Makhmood, 39, befriended the teenager in the South Yorkshire town before plying her with alcohol and having sex with her.
Sheffield Crown Court heard the victim was passed around by the three defendants during meetings in a car park, a graveyard and the stairwell of a block of flats.