---
I was in on the Twitter exchange…
For any experienced eye, the neo-nazi Hungarian Jobbik are easy to spot straight away, the uniforms, the language, even the name of their outfit, albeit the lettering was in reverse because the camera caught it from behind. Lol! This is what happens when you're more interested in a "gotcha moment" then in real journalism without an agenda.
Laura Huhtasaari has last laugh: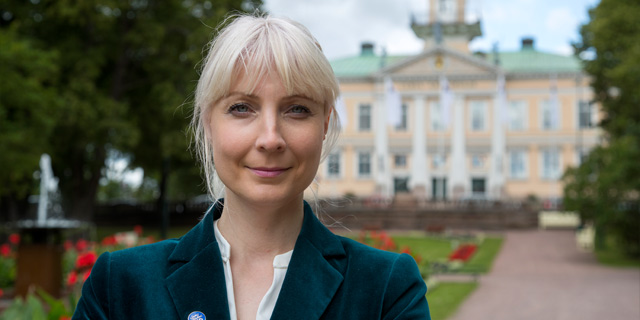 UPDATE: I've come to find out that Eero Mäntymaa was also a "human rights' activist for the highly anti-Israel EAPPI (of which I've wrote about for years) (I confronted Mäntymaa three years ago), who went a couple times to Hebron to "watch out for violations" by the big bad IDF and their border guards. Here's a sampling of the tripe he wrote:
– Hebron has Jewish settlements inside the city. They think that the land belongs to them. They cause a variety of problems and disruption, take over houses and commit direct crimes. Some of the city is under the control of the Israeli army, Hebron has an estimated 2000 soldiers to protect 500-800 settlers.

– The task of soldiers is to protect settlers, so they are quick to arrest Palestinians, for example, but settlers hardly ever brought to bear responsibility for their crimes, he explains.

– I also have a need to tell others what's happening in that area that I know about. The issues also touch us, and it's difficult to turn your back on them. If there is ever to be a peaceful final settlement, it's great to have played a small part in promoting it.
He brings his same biases to work at YLE.
It couldn't get any more embarrassing: In pursuit of Huhtasaari Yle's Eero Mäntymaa caught lying – twice in a row
Broadcasting journalist Eero Mäntymaa would probably have liked to stay off of Twitter on Monday. Mäntymaa, the feared online hunter of Nazis was enthusiastic about the 60,000 participant's in the nationalist march in Warsaw to the extent that he began to see things with a vengeance. Blind flurry resulted in gross errors.
The chain of events was launched by President Laura Huhtasaari 's tweet on Warsaw. Huhtasaari wrote: "Good Poland". This raised the debate that Huhtasaari continued :
"Those who know history, know what the Poles have suffered. They are finally free of communism, Nazism, and are about to be a national and Christian poland at the end of 100 years. They no longer consent to slavery. "
This wasn't good enough for Yle's Mäntymaa. He linked to the twitter chain a picture of a threatening man making the nazi hand salute and wrote: "OK fine, there can be family among Neo-Nazis. "
Those on the Twitter feed pointed out to Mäntymaa that his picture is not related to the Warsaw march at all, but is from Hungary and from 2015.
Things went from bad to worse
Spreading a fake image didn't bother Mäntymaa, but continued with a more frustrating tweet :
Yeah, I noticed it was an old picture. Regrets! Here's the slogans from today's march: "Clean Blood". "Europe Will Be White". "Pray for Islamic Holocaust". "Ordinary family" speeches?
Mäntymaa therefore argued in his tweets that a holocaust for Muslims would have been prayed for in Warsaw.
If Mäntymaa had begged to check his claim, it would have been fairly easy to find that the claim is untenable. It is true that the claim has been spread widely in the so-called media, but there are no eyewitnesses or photographs. The Washington Post and the Independent on the Holocaust referred to CNN's News, which was actually reported in the original version on the Islamic Holocaust.
CNN subsequently corrected its news and removed its claim about the Holocaust. A correction has been added to the end of CNN's news, with a slight arcane finding that "The text has been altered to reflect the content that was visible on the signs in Warsaw."
Polish journalist Tomasz Lysiak has found a holocaust sign. It is from the year 2015 – just like the other fake story linked by Mäntymaa.
Now sorry
Eero Mäntymaa hosted two consecutive fake news events on Monday. It's pretty much for a journalist whose firm deems being reliable the highest value.
Mäntymaa disseminated falsehoods in a situation where he deliberately tried to discredit a presidential candidate.
I had somehow understood journalism as being journalists trying to make sure that politicians are not lying. Is this pattern now turned on its head?
MATIAS TURKKILA Suomenuutiset