---
And the media kept their yaps tightly sealed about it…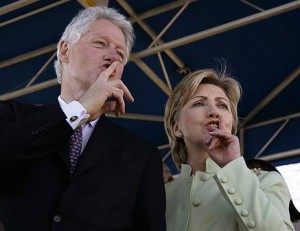 EVERY DEMOCRAT PRESIDENTIAL CANDIDATE IN 25 YEARS HAD PEDOPHILE TIES
The Clintons, Obama, Kerry and their pedophile pals.
November 14, 2017
It was the cackle that cost her an election.
The time was the 80s and the First Lady of Arkansas was chatting with Roy Reed. Reed was a New York Timesbigwig, a civil rights hero and is currently a speaker for the Clinton School of Public Service.
Back then, Reed was working on a profile of the Clintons for Esquire. The profile was never published. The tapes of the interviews were stowed at the University of Arkansas until they were dug up in '14.
And there's Hillary Clinton laughing on tape about how she saved a 12-year-old girl's rapist.
Kathy Shelton had been raped and beaten into a coma when she was twelve years old. Her rapist wanted a "woman lawyer." Hillary Clinton took his case as a favor and used every dirty trick to get him off. Even though she admits on the tape that she knew her client was guilty, she accused his victim of being "emotionally unstable" and fantasizing about older men. And she used the little girl's bloody underwear as the pivot of a blatant lie that got her client off with less than a year in prison.
All of that is bad enough.
It reminds us that there is nothing that Hillary Clinton won't do to win whether it's accusing an abused child of being a mentally ill slut or accusing her election opponent of cavorting with urinating Russian prostitutes. And that despite her best efforts to appear human, she has nothing resembling a soul.