---
Clearly we know whose side this enormous maroon is on…
In Finland, we have the same kind of jackassery paraded as enlightened thought. Four years ago, National Coalition (Kook-omus) Pertti Salolainen made similar claims.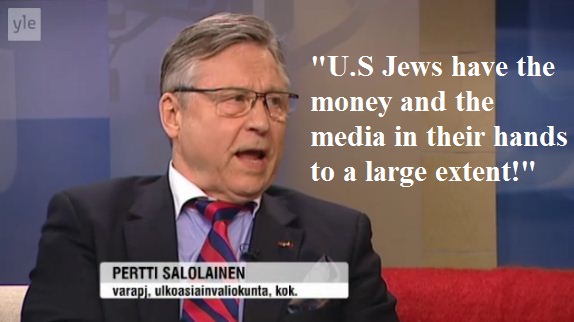 Little do these morons know, that the overwhelming percentage of the pro-Israel lobby, are supportive, Zionist Christians, yet they focus on da Jooos. Also overlooked by these maroons is the fact that AIPAC has never dictated US foreign policy, which can be seen in the US' arming of Israel's arch enemies, choosing to attack Iraq instead of Iran, as well as a plethora of debate and difference of opinion within the Jewish community itself, let alone in the overblown "Jewish lobby".
Lets hope that Queen Elisabeth manages to hold on for another decade or so.
Prince Charles suggested 'influx of foreign Jews' was partly to blame for Middle East unrest and asked who will take on 'Jewish lobby' in America in letter to close friend
A letter penned by Prince Charles in 1986 reveals his views on the Middle East 
The letter was written to his mentor, the Afrikaner explorer Laurens van der Post
He argues that the exodus of European Jews helped cause unrest in the region
He also writes his hopes that the 'American Jewish lobby'will be stood up to
'Jewish lobby' is considered by some to be an anti-Semitic term, often criticised 
But Charles has always had a good relationship with the UK Jewish community
Prince Charles was fiercely criticised last night after it emerged he once urged the US to 'take on the Jewish lobby' – and blamed 'the influx of foreign Jews' for causing unrest in the Middle East.
The Mail on Sunday can reveal the incendiary comments are contained in a letter in which the Prince lays bare his thoughts on one of the world's most bloody disputes.
Writing to his close friend Laurens van der Post in 1986, the Prince makes a startling assessment of the Arab-Israeli conflict.
He argues it was the exodus of European Jews in the middle of the last century that 'helped to cause the great problems'.