---
Finnish justice system in a nutshell: Two sets of laws, arbitrarily enforced and truth not a defense.
Here's a pickle for the pickleheaded, what if it's between two minorities, with only a marginal difference in their demographics? Also, the woman was born in Finland, she's a Finn, spouting supposed "hate speech" against other Finns, by default, the 'internet cop' is casting her as "not as Finnish" as the country folk she was demeaning. This is the kind of jackassery that only one can expect from someone supporting stupid laws.
Sebastian Tynkkynen: "Mikko Kärnä tweets to Finnish "hate speech" cop Teemu Hokkanen":
What does @HPLnettipoliisi say? Is this hate speech? @SuomenPoliisi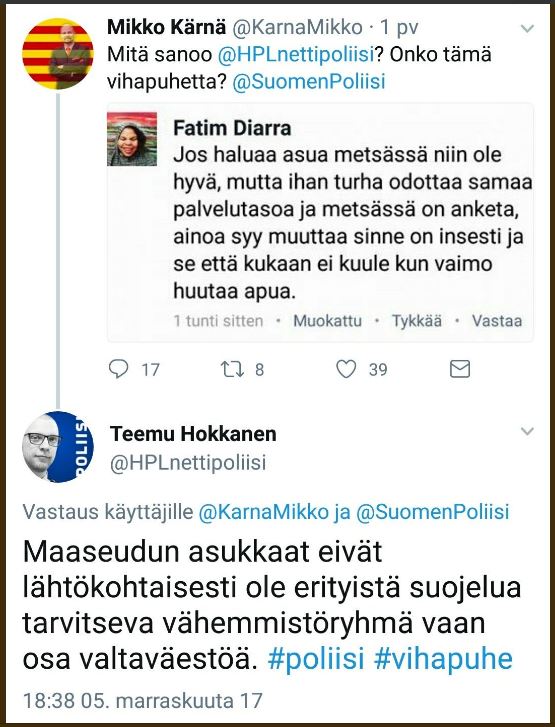 Greens Party city councilwoman, Fatim Diarra,
"If you want to live in the countryside, go ahead, but you're waiting in vain for the same level of services, and the countryside is grim, the only reason to go there is for incest, and no one can hear when a woman shouts for help."
Former Greens candidate, now internet policeman, Teemu Hokkanen:
People living in the countryside, are not in principle a minority in need of protection, but are of the host majority #poliisi #vihapuhe
See how this works? It's why Finns Party chairman Jussi Halla-aho was politically persecuted in 2009 for asking this question, in which he posed three different scenarios concerning offensive statement made towards majority and minority population in Finland.