---
Four years on after the Boston bombing massacre, and the concept of "individual terrorism" (a.k.a. lone wolf) is still misunderstood as ever…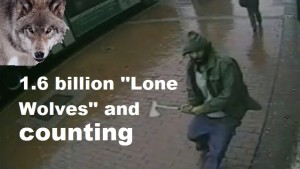 What is totally misunderstood of course, is the Islamic terrorist strategy of decentralizing their command structure which after 9/11 proved very costly to the al-Qaida terror network. Such a rigid network left far too many breadcrumbs for investigators to follow, they needed another way to approach their goals of sowing mayhem and murder but leaving other sleeper cells (consisting of a single person or multiple members) undetected by law enforcement. They found a way, thanks in large part to the "al Suri Strategy".
When I say "lone wolf" I'm talking about either a single person or a small number in unrelated cells, they only need to check online to receive any generalized orders and plans on how to carry something out. More likely than not, these "individual" terrorists are in league with others, but in a way in which they can carry out individual roles separate from one another to ensure the success of an attack, being more likely to defeat, or at least highly frustrate law enforcement in their investigations of the aftermath. It also allows for complete independent singular acts of terror as well.
NOTE: Just think of it as independent cells of either one or more actors with licenses to murder independently from terror central. I know that I keep beating the drum over this but it's highly crucial to understand the strategy behind the tactics employed, in order to formulate the best counter-strategy in defeating it.
Online Jihadi 'Mein Kampf' Urging: 'Attack Sporting Events'
The global jihadi masterminds endorse a new style of operation, particularly for those in the non-Muslim world arena: small cells, few connections, low cost munitions and high density, high profile crowds. "It's the al Suri Strategy come home to roost."