---
Eh, no, stay there and enjoy your life choices…
Let me return to Britain to face justice, begs grammar school jihadi from High Wycombe who travelled to Syria to fight for ISIS
Shabazz Suleman, 21, went from High Wycombe to Syria to join ISIS in Raqqa
He underwent weapons training and was a guard but denies he was a fighter
Former grammar school boy now says he wants to come home and face justice
Minister has said that the majority of Britons who went to Syria should be killed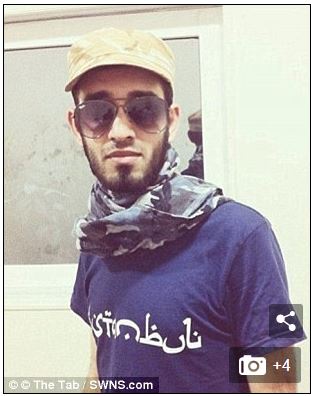 A young Briton who fled to Syria to fight for ISIS now wants to return and face justice with the caliphate collapsing.
Shabazz Suleman, 21, disappeared while on a family holiday to Turkey three years ago and had been in Raqqa, the de facto capital of Islamic State, until its recent fall.
But now he wants to come home and be punished for joining the terror group having become a 'disillusioned jihadi'.
It came days after a minister suggested the only way of dealing with British fighters who have gone to Syria or Iraq will be to kill them in almost every case.
Rory Stewart, an international development minister, said UK citizens who had travelled to the war-torn country were a 'serious danger' to Britain.
Suleman, a former grammar school pupil from High Wycombe, Buckinghamshire, told The Times that he had become disillusioned with jihadism and chose to desert the terrorist group.