---
No, it's not "islamofauxbic' abuse, just abuse, the same kind any neo-nazi or marxist-leninist (one would hope) would hear if they walked past a shop in full regalia…
If you're going to wear symbols of intolerance, supremacy and genocide openly in public, prepare for blow-back. This woman (journalist) is not a victim, anymore than the man I took issue with in a local store, for wearing a long length sweater covered in pictures of Che Guevara. We need to stop treating these people as victims, and as the supremacists and purveyors of anti-Western values that they are.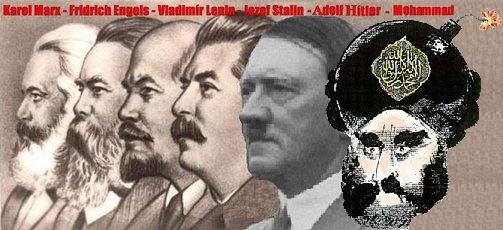 'Are you going to blow us up?' Viewers outraged as woman has Islamophobic abuse hurled at her as she walks past her local pub while wearing a hijab and posing as a Muslim in shocking TV show
Viewers were left outraged last night after a British woman posing as a Muslim was subjected to vile abuse as she walked past her local pub (centre). Katie Freeman was targeted by drinkers while disguised in a hijab as she took part in an explosive new documentary on Channel 4 called For My Week as a Muslim. The 42-year-old was taunted in her home town of Manchester by punters, including one who asked if she planned to 'blow them up', in the same week that a terror attack rocked the city.
However, Katie, a former 'ban the burka' campaigner, also came into criticism for claiming early on in the programme that Muslims did not 'dress British'. As part of the documentary, Katie spent seven days living with Saima Alvi, 49, and her family. Freeman, top left, wore make-up to disguise her looks, bottom left.