---
Middle East conflict carried out in the streets of far away Finland…
A number of men tried to burn the Iraqi flag embassy in the courtyard area of ​​Helsinki
Saturday 21.10.2017 at 20.48
The intensification of Iraqi Arab and Kurdish populations is also evident in Finland and in other European countries.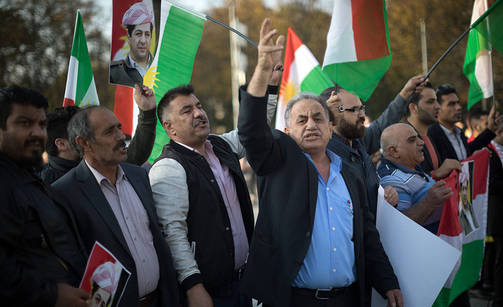 Iraqi Kurdistan independence poll has led the Iraqi regime and Kurdistan civil war to the brink of war.
The Iraqi regime has taken back Kurdish-dominated areas such as Kirkuk.
Tensions also appear in Finland in confrontations between Kurds and Arabs.
According to Iltalehti's sources, Thursday's four men entered the Iraqi Embassy's fenced yard area in Kulosaari, Helsinki. According to information received by Iltalehti, the men tried to burn the Iraqi flag. The embassy staff and the police interrupted the provocation.
The Helsinki police confirm that criminal charges have been filed. It is suspected as an aggravated breach of disturbing the peace.
Similar cases have taken place across Europe, including in London and in Brussels. People identified as Kurds have burned Iraqi flags in front of the Iraqi Embassy.
The reader's video shows how the staff of the embassy is inspecting the flag and the police investigate the car by which the suspects came to the scene.
The Arab and Kurdish populations have also clashed in other parts of Europe. According to Iltalehti, there are some fighting between Kurds and Arabs, for example in Itäkeskus and Kontula in Helsinki.
Similar provocations have also taken place in Iraq when the Iraqi regime and the militia groups supporting it have taken over the Kurdish-dominated territories. For example, in Kirkuk, members of the militia group burned the Kurdistan flag after first entering the area.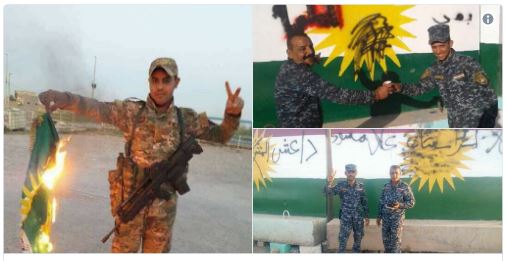 Below is a list of images taken at Kirkuk after the militia groups and police forces fighting alongside Iraqi troops.