---
Muslims walking nearby breathe sigh of relief over one less Christian in the neighborhood…
I think of Fr.Gabriel Nadaff who I met in Israel with Tommy Robinson and Brian of LOndon, and hope he never encounters anything similar, the jihadis want to do the same to him what they did to the Coptic priest in Egypt.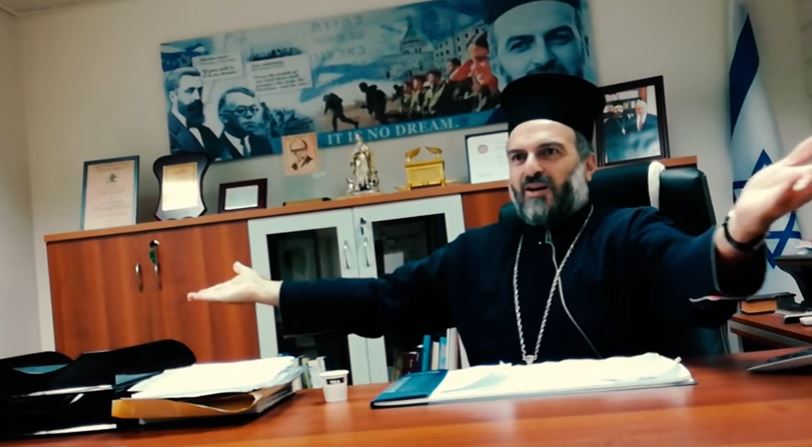 Coptic priest stabbed to death by Islamist terrorist
The brutal Jihadist murder of Coptic priest Monsignor Samaan on a busy Cairo street has so far elicited no response from Egypt's government.
In an act of jihad by a Cairo Muslim named Ahmed Saayed Al Sunbaty, wielding a sword in the streets of Al Marg in Egypt's capital city in broad daylight, two Orthodox priests, Father Beeman Muftah and Monsignor Samaan, became the targets of a brutal terrorist murderer.  On Thursday, October 12, the two priests were visiting Cairo to raise funds for the poor villagers of Bani Sweef (Al Minya). They departed from a store (a construction steel seller) and returned to their car when the Monsignor realized he forgot his cell phone in the store. Father Beeman asked their driver, Gerges Kamel, to accompany the Monsignor on his return to the store in order to retrieve it.
Mr. Kamel gave the following firsthand account: "There was water in the street dividing us. I followed him separated by water, and suddenly I saw a man carrying a sword begin to follow Monsignor Samaan who began running toward the store. At the store entrance, the attacker reached the Monsignor and stabbed him in his side. Monsignor fell to the ground. At that point, the killer stabbed him again in the neck, slaughtering him. The murderer then hit him in the skull and then carved a cross with the same tool into Monsignor Samaan's forehead."
The driver continued to say that the street was filled with pedestrians who were present at the scene, but no one intervened. The jihadist ran off but not before tossing onto the Monsignor's body a handwritten note from his pocket. It all happened in four minutes.
Ahmed Saayed Al Sunbaty was apprehended by citizens with the police who by then were a few meters away from the carnage.  The Monsignor remained alive for another half hour waiting for an ambulance to navigate Cairo's streets. It arrived one hour after he died. Some say dispatchers work slowly when an emergency call comes in for Christians. Mr. Kamel estimated that the Monsignor's life could have been saved.