---
Actually, these police officials should remove their own Orwellian accounts from Twitter…
I've never seen anything like it, at least I've never heard of police in the US promoting their politics while in their official capacity as police officers. I have great respect for the rank and file in police departments, always have, but I do not respect police officials overextending their roles into the area of politics and policies.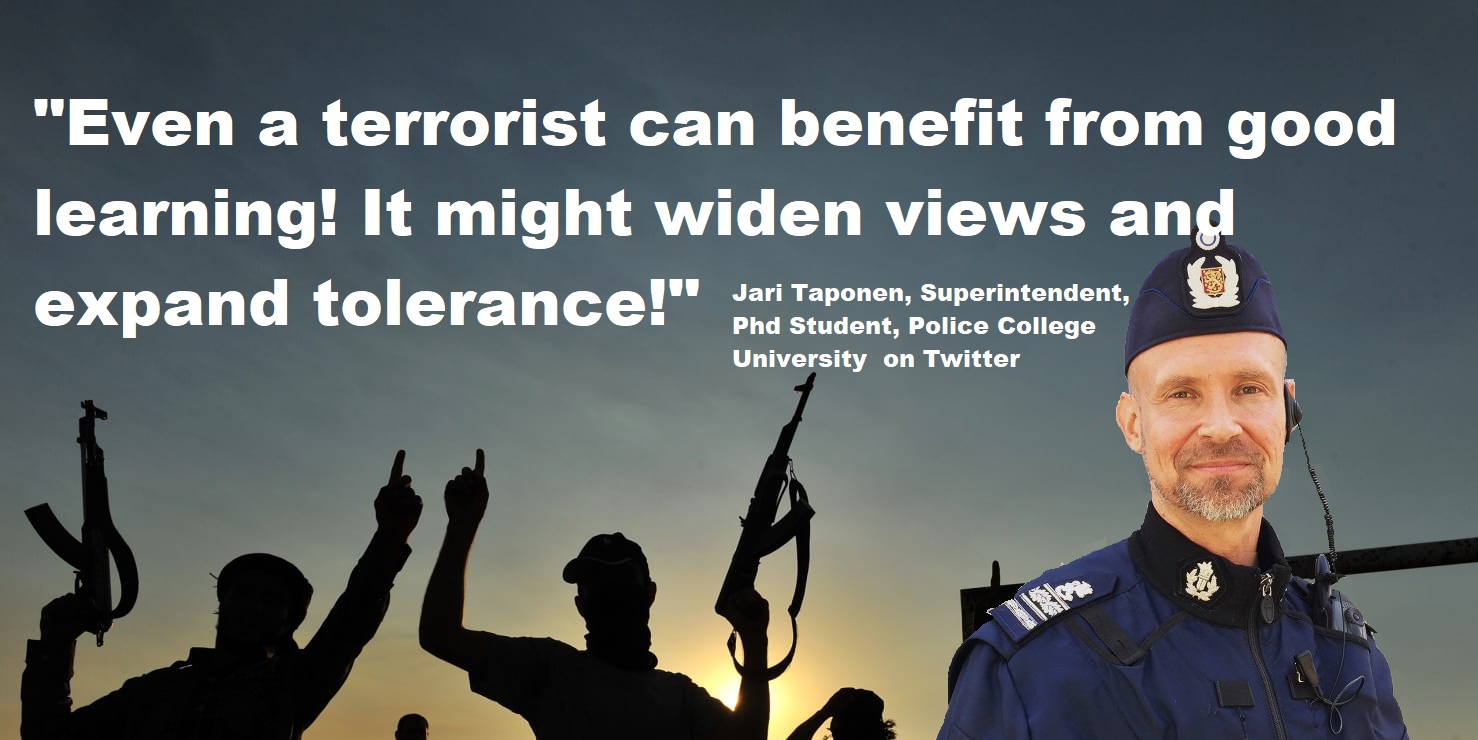 Anyways, these parody accounts are clearly marked, "parody accounts" on their profiles. What these cops like Jari Taponen and Jari Huhtela are angry about, are ordinary citizens disgusted with their propagandizing on the public dime in their official capacity. Spewing out opinions as facts and feigning outrage when their opinions are rejected. These parody accounts are a natural venting of people's disgust with them and their Orwellian efforts. I don't stand by every single parody account because I do not read every tweet, but the ones I've seen, are amazingly humorous and spot on in their satire.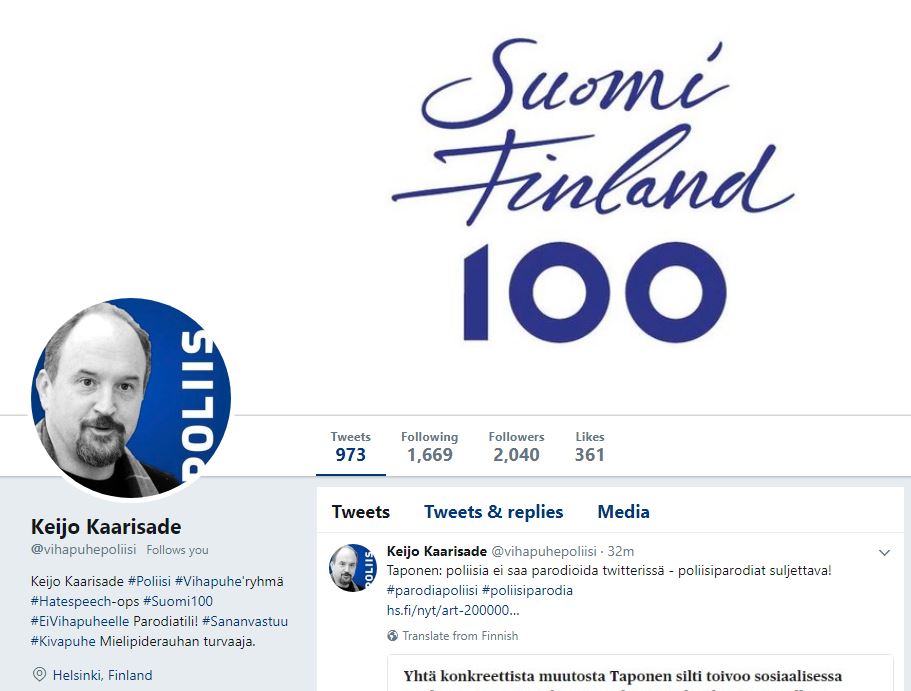 Anti-immigrant activists now focus their attacks on the police – police parody accounts should be removed from Twitter, says police superintendent targeted by hate speech
Police parody accounts  and the publication of private information on racist websites has become more common this year. The situation has to be addressed, says Jari Taponen, police superintenent.
"Is Helsinki Police Officer Jari Taponen barely intelligent?"
This is what the MV site (known for the wrong or distorted stories) asked in a June publication.
A couple of months later, Finns Party Chairman Jussi Halla-aho , shared a tweet about Jussi Taponen's colleague, Jussi Huhtela, criticizing cuts and border-closed politics, saying the following:
"Is this really a police officer's account? 
Police politicization does not in the least increase citizens' confidence in the profession. "
The writing by Halla-aho provoked heated debate, based on which we did a story  about Internet targeting . So what is it and who are the victims of it. 
For example, civilians, journalists, and many others have been involved in the campaign.
However, this year's growing phenomenon has been influencing the police and placing individual policemen under the microscope. Jari Taponen and Jussi Huhtela, who are the most active on social media, have been subjected to particularly harsh defamation, and have taken a stand on touchy issues such as immigration policy.
Within a short time, a number of police parodies have appeared on twitter, with a visual look exactly equivalent to that of the official police. The police parody accounts strongly attack the police for their right positions or are trying to make them into laughing stocks.
One such is "Keijo Kaarisade", a black-and-white police officer with the face of comedian Louis CK. It has nearly 2,000 followers – more than Taponen.
One tangible change Taponen still hopes for social media. According to him, police parody accounts should be shut down on Twitter. 
"It seems to me that it is the same thing as someone who walks on the street  masked as a cop. Clearly it's trying to diminish the police's credibility.
It's also entirely possible that an average citizen unknowingly is in contact with a parody account when trying to reach a cop."
Is not the closing of parody accounts a limitation of fundamental rights, meaning the freedom of expression?
"With these parody accounts there is a real possibility that people think they are dealing with a real policeman, and that has happened. If it is intended to mislead people to think that this is a real cop, I do not think, in my view, it's a part of freedom of expression. In the same way as dressing as a police officer is not part of fundamental rights. "