---
Police saying not terror related….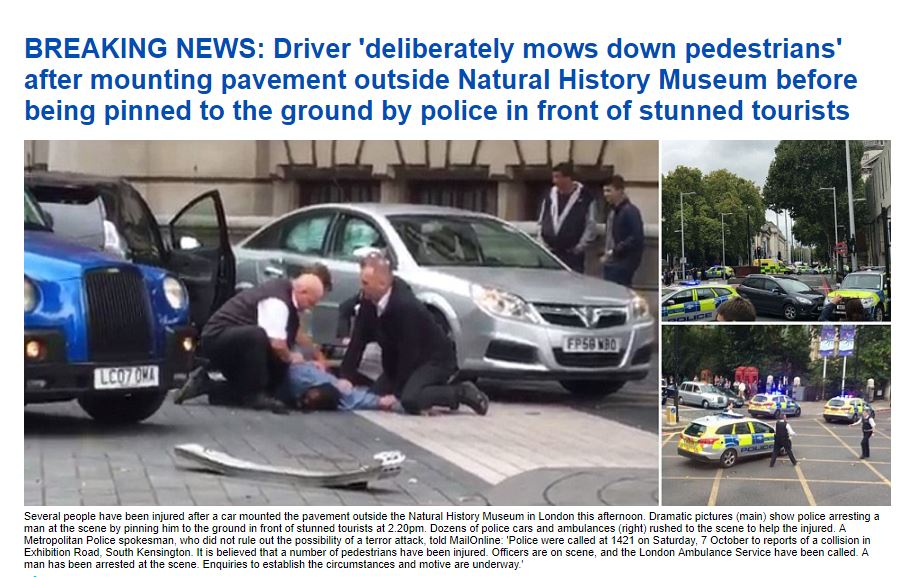 Several people are injured after a car mounted the pavement and mowed down pedestrians outside the Natural History Museum in London.
A man has been arrested at the scene after several pedestrians were mowed down by a vehicle.
Dramatic pictures taken at the scene show police holding down a man covered in blood with rubble strewn across the road.
Nearby museums and Tube stations including Sloane Square and South Kensington have been evacuated while roads in the area remain closed.
One shocked onlooker wrote on Twitter: 'Just witnessed a car drive into people in London. Safe for now please message your friends if they're here near the national museum.'
Another user posted: 'Looks like a guy tried to mow people down at the natural history museum.'
Lesley Carter wrote: 'Recommend steering clear of the NaturalHistoryMuseum – Police incident – man has mounted the curb in a car attempting to run people over.'
BREAKING – UK: Several people are injured after a Muslim terrorist rammed a car outside the National History Museum in London. The terrorist has been arrested at the scene. Details to follow. pic.twitter.com/lHARHuUOO7

— Behind The News (@Behind__News) October 7, 2017