---
In other words, because these girls are not Muslims, they deserve what they get…
This is how many view the non-Muslim, and it's due to Islamic teaching, Islam 101.
'White girls are filthy': Wives of Asian men jailed for raping vulnerable British girls reveal why they blame the victims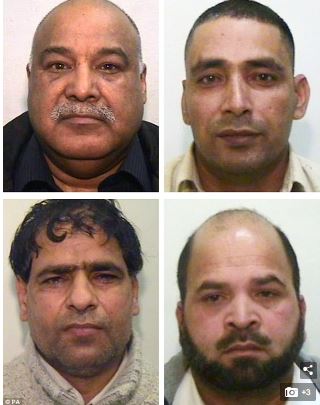 Top Muslim writer persuaded the families of jailed rapists to share their stories
But behind their veils, the wives say they blamed the girls and their parents too 
One woman described victims as 'filthy' and said they dressed without respect
It is a rainy day in June and I am in a terraced house in Manchester. It belongs to an acquaintance who I will call Mrs Soni, a retired Asian school teacher.
She is shaking with nerves and I, too, am feverishly anxious as we wait, repeatedly peeping out through heavy red curtains.
Our guests had said they would come at nine in the morning, after the children had gone to school. The street is quiet. Few Asians live here, which is important.
I am meeting the wives of three men convicted of a terrible crime – of grooming and raping dozens of white girls. Nila, the 18-year-old daughter of one of them, will be there as well.
It was Nila who had approached me in Leeds when I gave a talk earlier this year. Small for her age, softly spoken, she had beautiful, green-brown eyes, Kashmiri, like her mother's.
She was upset. 'My dad is in prison because he was with others raping small white girls,' she told me. 'I hate him. He made my mum pregnant eight times even when she didn't want to do it. I heard her crying. Six babies died. He did that to her for so long. But never went to prison.'