---
Yeah, it this moron giving the double finger with Finland's former president in the foreground.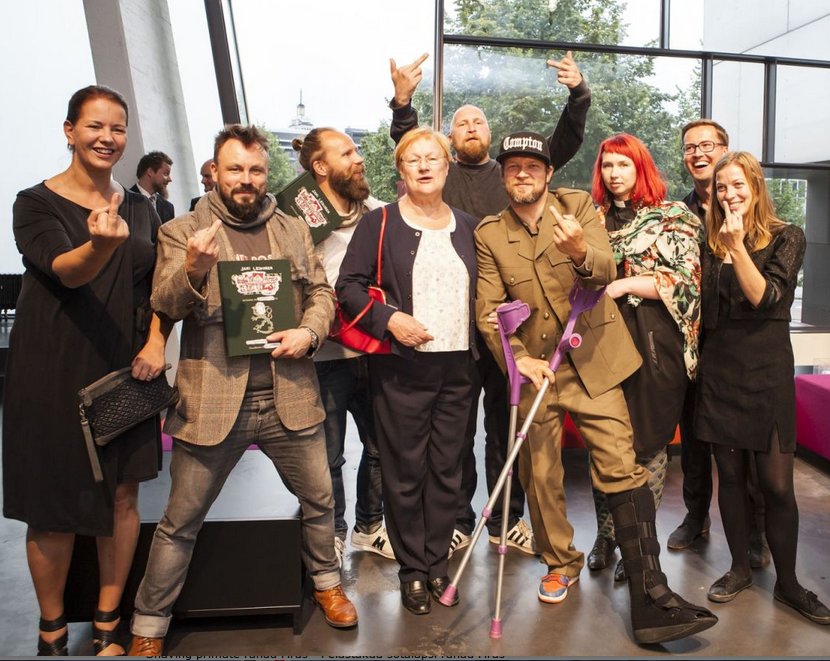 The youth organizations of the Coalition Party and Finns party indignant over Paleface's opera: "Children being made to do a left-wing opera"
The youth organizations of the Coalition Party and Finns party of Oulu and Kainuu have published a joint statement about a school opera by Karri Miettinen, an artist known as Paleface.
Paleface's Ihmepoika A has been internationally awarded and tells about the future of a refugee child who is discriminated against because of his diversity.
The statement states that, as the plot progresses, the school intends to close due to the lack of appropriations. However, there is a magic garden where the school children get their food. At the end of the opera, the male child refugee is revealed to be a girl and the school did not close.
– I think it is incomprehensible that this kind of politically charged material is fed to elementary school children. In the opera, the political content is upholstered behind comfortable joint singing, says Atte Syväniemi, vice-president of the National Coalition's Youth Party of Oulu County.
Jenna Simula, Chair of Finns Youth Party of Oulu and Kainuu, is of the same opinion.
– A Finnish elementary school must not be a political party institution. Now the children are being put together to make a politicized left-wing opera, he says in a statement.
The chairmen of youth organizations also point out that Paleface has declared that he represents the political left.
The Ihme Poika A is part of Finland's 100th Anneversary Program. It has also been practiced in Oululaiskoulu .