---
The jihad against Burma/Myanmar's Buddhist population has been going on for centuries, just like it has been in India and elsewhere Islam has washed up upon the shores.
The Philippines have been fighting an Islamic insurgency for a very long time as well, and look how they, the IC, has treated that country, like pariahs, while the Muslims are depicted as an endangered minority. Are there atrocities on both sides happening, yes, but acknowledging that it proving extremely difficult for the fake media. A little bit of context and historical perspective on hegemonic Islam seems to be lacking here.
Aung San Suu Kyi says 'terrorists' are misinforming world about Myanmar violence
De facto leader responds to growing international criticism by attacking 'fake news' about the plight of Rohingya Muslims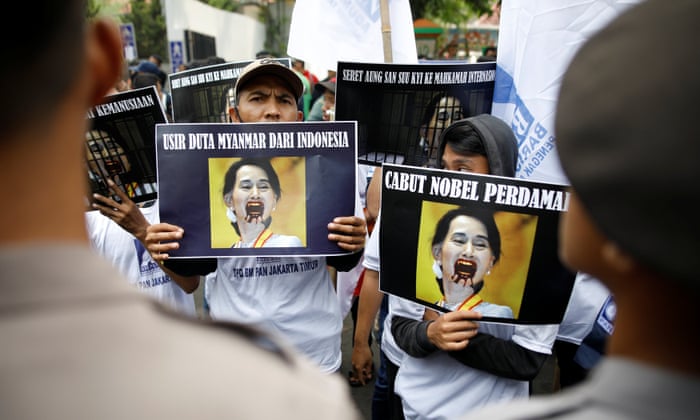 Aung San Suu Kyi has blamed "terrorists" for "a huge iceberg of misinformation" about violence in western Myanmar that has forced more than 120,000 Rohingya refugees into neighbouring Bangladesh.
The de-facto leader of Myanmar is under growing pressure to halt "clearance operations" by security forces in Rakhine state that the United Nations secretary-general has warned could verge on ethnic cleansing.
A statement posted by Aung San Suu Kyi's office to Facebook on Wednesday said she had spoken with Turkey's president Recep Tayyip Erdoğan about the crisis that he has repeatedly called a "genocide".
She said the government "had already started defending all the people in Rakhine in the best way possible and expressed that there should be no misinformation to create trouble between the two countries".
She referred to "fake news photographs" posted on Twitter by Turkey's deputy prime minister that purported to show dead Rohingya in Myanmar, but in fact were taken elsewhere.
"That kind of fake information which was inflicted on the deputy prime minister was simply the tip of a huge iceberg of misinformation calculated to create a lot of problems between different communities and with the aim of promoting the interest of the terrorists," the statement said.
The latest exodus of refugees from Rakhine state began on 25 August after Rohingya militants attacked dozens of security sites. Authorities responded with a crackdown that UN officials in Myanmar say may have killed up to 1,000 people.