---
This was done with author Paul Auster (Leftist Democrat) a little known writer in the US…
There is only one way to understand this bizarre interview conducted by the Finnish president, Sauli Niinistö, it was a complete trashing of the US president and the country by a leftist (self hating US) hack author, and with a supposed conservative president in front of a glowing, laughing and applauding crowd. Niinistö was agreeing to it all.
This past week…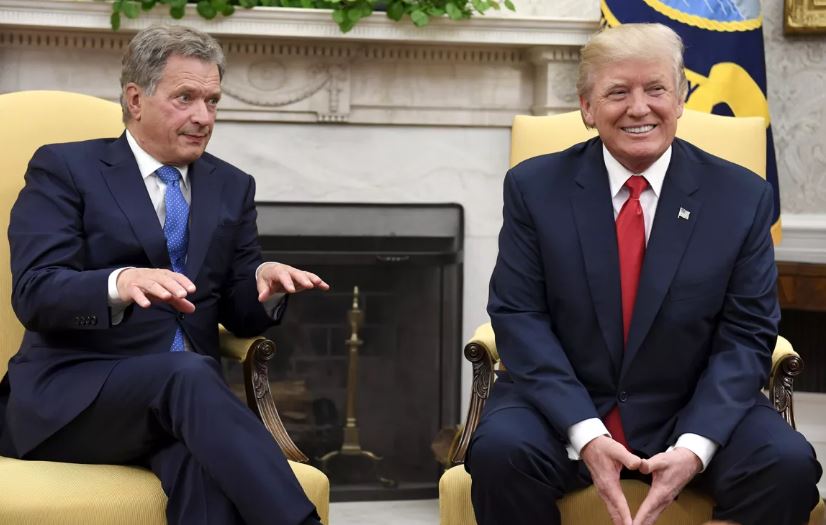 This is today…
Author Paul Auster in interview with Niinistö: He  told of his novel, criticizes Donald Trump and ponders the future – watch video
Paul Auster criticized President Donald Trump in an interview and explained his latest work.
American author Paul Auster's interview was followed by an overwhelming crowd in the Academic Bookstore in the center of Helsinki. The author shared his thoughts in the interview with Sauli Niinistö, President of the Republic, as himself an author, his latest work, poetry, American dream and the future.
Auster made the audience laugh several times during the interview. His own US President Donald Trump received criticism.
President Niinistö, who interviewed and welcomed Auster as saying that everyone would certainly know him here. Auster commented back saying that he also believed so did Niinistö.
Auster became aware of the public in the mid-1980s. Auster's most recent work is 4,3,2,1 .
Auster has previously said he is really enjoyed President Niinistö interviewing him. Auster also repeated his message at the end of the interview.
NOTE: Auster resembles the late great Rodney Dangerfield who was in fact very well known, unlike this jerk of an author.